5 Home Security Upgrades You Can Make Now
Stay Safe with the Hottest Tech on the Market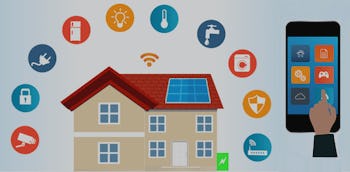 Pentoz Technology
It's tough to imagine a situation where you need to protect your home. No one likes to daydream the worst scenario or feel anxious or uncertain when you are far away. Put these worries to rest with some of the best picks on the market. From security cameras to alarm systems, here are the best products to keep you safe:
Ring Alarm 15 Piece Kit + Echo Dot (3rd Gen)
This is the Ring set for those who are serious about security. Comes in multiple kit options with different piece quantities for motion-activated security. All pieces sync to the Ring app, where you can see motion-activated areas on your smartphone. The option of 24/7 professional monitoring. Works with Amazon Alexa. Easy set up with no installation hassle (no tools or invasive construction)
Arlo Pro 2 – (1) Add-on Camera
Get a bird's eye view of your space 24/7. The Arlo Pro 2 allows constant recording for maximum vigilance across your home. With high-quality video to precisely capture details and motion sensitive technology, the Arlo Pro 2 works with Amazon Alexa to enable customized alerts to detect specific visitors and hot-activity zones. Oh, and best perk: it's weatherproof.
Pet Camera, Netvue Home Camera
Our furry family members are a vital part of our lives, so take lets care of them. THe Netvue Home Pet Camera features a 130-degree viewing angle to get a panoramic view of home while away with 4x zooming capabilities. Two-way audio and night vision provide extra security features that allow you to connect with your pet at home. With an easy installation process and sophisticated privacy protection (AES 256-bit encryption and Transport Layer Security), you can monitor your pet's safety with the Netvue app and through Amazon Alexa. Is there anything it can't do?
Wsdcam Door Alarm Wireless
Need a no-fail solution to protecting your home? Meet the Wsdcam Doorbell. It is a device that signals entry with blaring alarm once it is set from inside the home and onto the entry location. The Wsdcam Doorbell comes with easy-peel installation and includes a remote control for quick management. It works seamlessly on points of access such as doors and windows. A budget-friendly option for the entire home.
Zmodo Greet Pro Smart Video Doorbell, 1080p Security Camera
Upgrade your doorbell security game by adding a camera. The Amodo Greet Pro Smart Video Doorbell is armed with 180-ft viewing angle capabilities that allow an approximate 16-foot view, meaning you won't miss a thing. It also features a two-way call through a closed door for secure communication, and a decline option as well. It works with two-band WiFi and is both 2.4GHz and 5GHz network compatible. Plus, it is Amazon Alexa compatible, so it has got you covered.