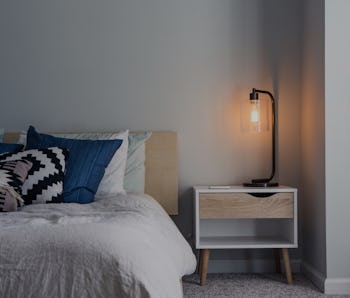 Mind and Body
Sleep Is Hard. Try One of These 4 Pillow Brands and Stop Waking Up So Much
A good pillow could be the key to good sleep that you've been missing. 
Unsplash / Christopher Jolly
I don't know about you, but the positioning of my pillows is essential to a good night sleep. If the temperature, angle, or ordering of any of my three pillows is in any way off, I will without a doubt wake up with a kinked neck, terrible headache, and/or feeling no more rested than when I fell asleep. But I also don't own good pillows. When I do sleep on a good pillow, I go home telling myself that the first thing I will do is research and purchase a good pillow for myself. It's revolutionary.
In the last 10ish years, online convenience has skyrocketed. There isn't a thing you can't get online anymore and mattress companies have been the most successful at digitizing the industry. With the influx of mattress-in-a-box brands taking root online, many companies have diversified their offerings and started offering luxury pillows too. These are the best pillows you can order online.
Why We Picked It: If you sleep hot, the cool side of the pillow is a long lusted-after feeling when you roll over in the middle of the night. With The Ultimate Pillow, all sides are the cool side, always. The quilted outer layer stimulates air flow to keep you comfortable all night long. Free shipping and free returns within 30 days.
Why We Picked It: If you've never slept on a down or feather pillow, it's a feeling unlike any other. My partner has had one in his possession for nearly two decades, and the pillow still feels as plush as the day he bought it. Helix Sleep has as wide an offering of pillows as they do mattresses because they know not all people sleep alike. For feather pillow lovers and those curious, Helix's Down and Feather Pillow has a unique, three-chamber design with an inner core of feather and down for consistent support throughout your night's rest while the outer cores of white down provide that hotel-like comfort you've been missing.
Why We Picked It: The memory foam trend kind of came and went and we were left with the knowledge that nothing sleeps hotter than foam. However, airweave has come onto the scene with their own resilient airfiber to disrupt the game. Made out of the same materials as their mattresses, the airweave pillow will allow you to sleep deeply all night with the high level of support and minimal motion transfer.
Why We Picked It: The Muse Pillow stands out in that it's one of the few offerings that doesn't claim to be one-size-fits-all. Choose from Extra Low, Low, Medium, and High loft options for your most comfortable night's sleep. The right combination of materials lends the perfect amount of cooling with just enough sink so that you feel cradled and comfy while you rest. Bonus points for the 120 night trial.