Turn Your Outdoor Space Into a Paradise With Help From This Innovative Outlet
"Life and Home" is your one stop shop for all your outdoor entertaining needs.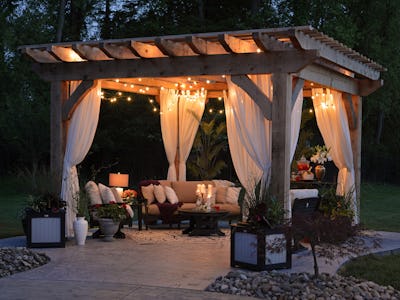 Unsplash / Randy Fath
If you're lucky enough to have any form of outdoor space, you might find yourself dumbfounded as to what to do with it. You could go out and get the same plastic dollar store outdoor furniture you may have seen frat bros furnish their homes with throughout college. No one would stop you from going the same route—we know no one stopped them—and it would be easy, but it wouldn't be your paradise.
You work hard to keep a roof over your head and having an outdoor space to retreat to is a crucial part of warm weather relaxation. Curate your outdoor space into the paradise of your dreams with the help of home goods depot, Life and Home.
At unheard of—and ultra affordable prices—you can furnish and decorate your patio, porch or unsightly concrete slab into something straight out of Pinterest. Where have you ever seen 6-foot wooden picnic table with attached benches for under $200? When have you ever been able to track down an affordable deck box for finally organizing all the odds and ends that frequently get left outside to weather the storm?
I've personally been seeking solar lights for my very-poorly lit back patio and until Life and Home, the pickings were slim. Life and Home has a robust selection of all kinds of solar lights for those of us looking to save on our energy bills and/or those of us without outdoor outlets! Ranging from functional and aesthetically pleasing garden globes and pathway lights to more whimsical cottage lights for the fairy garden of your dreams and a plethora of string lights that will match your personal style and withstand the elements of outdoor living.
And the prices on outdoor furniture are absolutely unbeatable for the quality and stylistic components present. If you are going to spend any amount of money higher than your past dollar store patio furniture, you want it to match who you are and also serve as a lasting investment that you don't have to replace year to year.
If you're not sold, allow yourself to browse for the things you've been hunting for and possibly find some things you didn't even know you needed. Search for [gazebos](https://click.linksynergy.com/deeplink?id=FY4z6oua/8A&mid=43951&murl=https%3A%2F%2Fwww.lifeandhome.com%2Fpages%2Fsearch-results%3Ftype%3Dproduct%26q%3Dgazebo%29, windox boxes, bird houses, new garden tools and start enjoying your outdoor space like never before.