Get This Mountable Power Strip With USB Ports on Sale
Includes 3 AC and 4 USB Outputs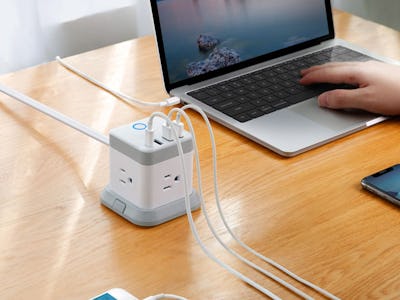 StackCommerce
The Details:
Hybrid AC-USB power strip and port expansion
Includes 3 AC outputs, 3 USB-A ports, and 1 USB-C
Intelligently identifies devices to optimize power output
Easily mount to your desk or wall for easy access
Comes standard with over-voltage, load, and current protection
FCC approved
Why You Want It: Extend your wall outlet to support a wide range of gear with the BESTEK. This is an ingenious combination of a conventional 3 AC power strip with 3 USB-A ports and 1 USB-C. Simply plug it into the wall as you would any other strip, and then mount wherever is most convenient—desk and wall are both easily done.
The Deal: Usually $26.99, you can snag a bit of a discount when you buy the BESTEK right now on the Inverse Shop—11% off gets you an out-the-door price of just $23.99.