Access Over 300 Tech & Design Courses for Less Than $60
Learn Everything From iOS Development To 3D Animation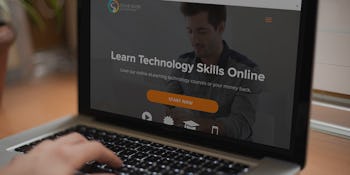 StackCommerce
The Details:
Lifetime access to 300+ tech and design courses for professionals and hobbyists
Instruction on everything from game, web & mobile development to 3D animation and graphic design
Learn popular tools and languages such as Java, Unity 3D, and Bootstrap.
Receive personalized input on your optimal learning plan
Take free certifications to solidify learning and boost your resume
Why You Want It: The best way to discover new professional and personal paths is to get down in the trenches and learn new skills. The Stone River Membership makes this easy with 300+ courses on everything from 3D animation to app development, including guidance to create your own personalized learning road-map and free certification exams to boost your resume. Whether you're in a dead-end job or just want a fulfilling hobby, Stone River is a great first step toward changing things up.
The Deal: Believe it or not, this bundle includes well over $10,000 worth of instruction, sporting an MSRP of $11500. Luckily, there's a limited time deal running over at the Inverse Shop—after 99% off you can walk away with one of the most substantial learning subscriptions out there for only $59.