This One Simple Item Is Essential for Your Summer Travel
Compartmentalizer Protects & Organizes Your Things, Folds Up To Save Space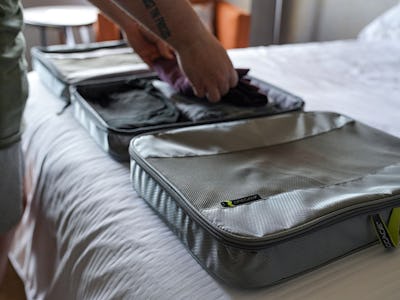 StackCommerce
The Details:
Lightweight 3-compartment separator for traveling
Get easy access to clothes and other items
Keeps your clothes from wrinkling or getting damages
Collapses in on itself to save space
Compatible with most carry-on sized luggage
Single compartment measures 14.5"L X 12.25"W X 2.25"H
Weighs 1 lb 7 oz
https://player.vimeo.com/video/275161526Why
You Want It: This is the kind of product that you'll instantly wonder how you ever got along without once you pull the trigger. It's a three-part clothing and item separator for traveling that folds in on itself to fit snugly in your existing travel kit. Simply compare your luggage measurements to the Oregami's and you're off (it's compatible with most carry-on sized bags).
The Deal: Act fast and snag 37% off the $79.99 retail right now at the Inverse Shop for a low out-the-door price of only $49.99.