One Device for All Your Favorite Nintendo Classics
Instantly Play Game Boy, NES, SNES & More On One Portable Device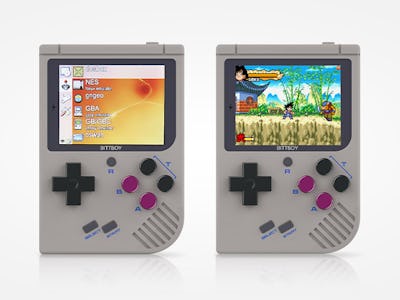 StackCommerce
The Details:
One portable solution for all of your classic Nintendo gaming needs
Download titles of your choice and then upload via microSD
Instantly access NES, GB, SNES, SMD, SMS, PCE, and NEOGEO games
Integrated TV output
Easy saving and loading
Adjustable brightness and vibration settings
Includes SD card
Why You Want It: What if instead of going out hunting for a classic Nintendo system and your favorite titles, you could access a wide range of games instantly from a wide range of different systems on one single portable device, and all without worries of reliability or compatibility? This is exactly what the BitBoy offers. All you have to do is download and upload the games of your choosing via microSD, and you're off to the races. Supported systems include NES, SNES, Game Boy, and more.
The Deal: I'm guessing some of you would pay a pretty penny for such an awesome solution to the classic Nintendo fan's dilemma, but luckily, you don't have to—$39.99 is all it takes right now at the Inverse Shop.