4 Smart Scales Every Home Should Have
These smart scales are more worth their weight.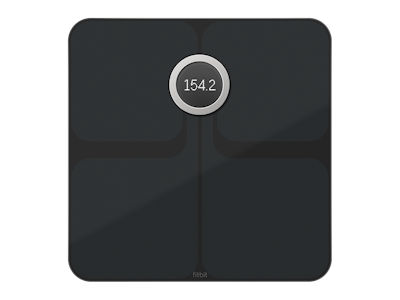 Fitbit
In the quest to put a digital brain in virtually everything in our lives, there have been a lot of "misses" to say the least. However, smart devices concerning health are nearly always a step in the right direction, as we've seen such success in the smartwatch market with fitness-focused features. Another great smart product that you may not have considered is a smart scale.
The "smart" part of smart scales is that in addition to telling your weight, they also measure several other things as well, like BMI, water %, bone mass and more. On top of that, your measurements are sent to a companion app so you can easily review your progress if you're trying to lose, gain, or maintain your weight. This data can then be shared with most fitness apps like Google Fit, Apple Health, or My Fitness Pal. It's awesome.
Below are 4 of the best smart scales you can buy today.
Withings / Nokia Body Cardio
Hands down one of the best smart scales you can buy is the Withings / Nokia Body Cardio. Track weight (kg, lb, st), weight trends, body fat & water %, muscle & bone mass and standing heart rate and then sync it to your favorite health app. Add up to 8 different uses that the scale will either automatically detect by weight range or allow you to choose which user to apply the measurement to. All of your data will automatically be sent to the Nokia Health app that is thoughtfully designed and allows you to view your progress easily.
Another great alternative to the Body Cardio is the Body+ Smart Scale.
Fitbit Aria 2 Wi-Fi Smart Scale
If you've gone all-in with Fitbit for your health tracking, then Aria 2 is for you. Measure weight, body fat percentage, lean mass, and BMI with the scale and it will automatically sync to your Fitbit dashboard. The design of the scale is modern looking and will go will in virtually any bathroom.
QardioBase2 WiFi Smart Scale
QardioBase2 measures your weight, calculates BMI, and tracks changes in your body composition. The built-in battery will give you up to a year of use on a single charge and you can recharge it anytime you'd like. Sync with Apple Health, Samsung Health, My Fitness Pal, Google Fit, and more of your favorite health apps so you don't have to jump between multiple apps to manage your health. The QardioBase also features a round design that looks fantastic.
eufy Smart Scale P1
The eufy Smart Scale is easily one of the cheapest smart scales you can get, coming in at under $50. Not only that, it provides up to 14 different measurements, including the expected weight, body fat, BMI, bone mass, and muscle mass. Its third-party app support doesn't seem to be as strong as some of the others, but all of the top dogs (Apple Health, Google Fit, Fitbit) are accounted for. Another possible downside to some is that the scale requires AA batteries and does not include a rechargeable lithium-ion battery. A bit unnecessary, but it can also track up to 16 different users — so if you have a big family, this is the one for you.