Mother's Day Gifts That Will Make Your Mom Forget What You Did That One Time
If you do it right, maybe your mom will forget that thing you did that one time.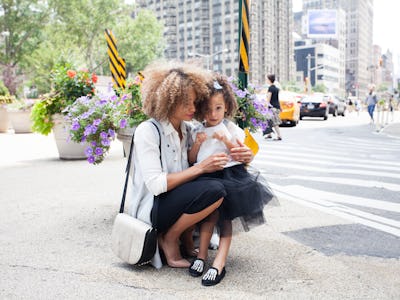 Unsplash
Moms are the best, they care for us, they always have our backs and they come equipped with the patience of a saint. In a few short days, Mother's Day will be upon us once again. This is the day to pull out all the stops, skip the flowers and give your mom something that makes her feel special. And, if you do it right, maybe your mom will forget that thing you did that one time.
Whether you're looking for practical gifts to pamper her or some nifty tech to make her life easier we've got some great ideas for you.
Renpho Shiatsu Foot Massager Machine
Moms work hard. When they're not walking around the office, chances are they're running after a kid or two or maybe chasing down dinner in the grocery store. Treat her feet to some downtime with a foot massager. The Renpho foot massager offers deep kneading shiatsu massage and air pressure massage with adjustable heat settings. The sleek style and easy to operate buttons makes this a great mother's day gift.
Royal Craft Wood Luxury Bamboo Bathtub Caddy Tray
There's no doubt that mom probably needs to relax and unwind. Give her the go-ahead to take a moment with a bath caddy. The Royal Craft bamboo bath caddy is adjustable so it fits on any tub and it keeps everything she needs for bathtime at her fingertips.
If mom is an avid reader a Kindle might just be the greatest gift ever. The ability to load twenty books into one lightweight gadget can't be beat. The Kindle Paperwhite has a built-in adjustable light, one battery charge lasts for weeks, and it will give her access to the latest book releases.
Amazon Echo can help mom with pretty much everything on her to-do list. The Echo connects to Alexa, to play music at her request, answer questions. control the lights, and even create a grocery list. It would be like having her own personal assistant.
This might be the next best thing to hiring a maid. Giving your mom a Roomba is like giving her the gift of time. Mom can sit back and relax while someone — err something does the vacuuming for her. Mom gets a break and the housework still gets done, I'm pretty sure that's every mom's dream.
Ember Black Ceramic Temperature Control Mug
We all know that moms drink cold coffee, maybe even lukewarm coffee on a good day. What could be better than giving mom the gift of hot coffee? The Ember temperature controlled coffee mug can keep coffee at her desired temperature for up to an hour.
KitchenAid Artisan Stand Mixer
Here's a quick heads up. Every mom secretly wants a Kitchen Aid Stand Mixer. With over 10 attachments, this isn't just your average mixer it's another set of hands in the kitchen. So as far as kitchen helpers go, this one ranks pretty high. This is definitely a winner for mom and if you're lucky you might get some brownies out of it.