These Bluetooth Surround Sound Earphones Are Extremely Affordable
Get A 5.1 Experience In A Sleek Wireless Package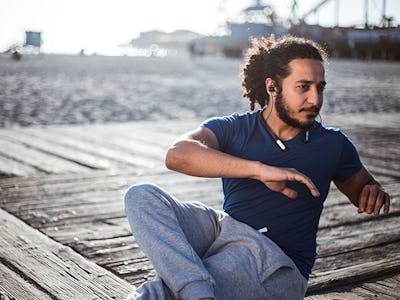 StackCommerce
The Details:
Bluetooth 5.1 surround sound earphones
Viscoelastic construction isolates audio frequencies for clarity
Infrasonic back cavity for impressive bass
Uses aptX tech for full-bandwidth low-latency wireless audio
2.5 hour charging time—8 hour run time
Sweat resistant
Sports a reflective strip for jogging
Why You Want It: If you've ever had the passing thought that a surround sound experience in an earphone package would be amazing, or are just hearing it for the first time and are intrigued, these Oomos are worth a look. Their unique construction separates out audio frequencies to provide a real 5.1 surround sound experience in a streamlined Bluetooth package. They're also sweat resistant, can run 8 hours straight, and even have a reflective strip for joggers.
The Deal: These are no ordinary earphones, and they do sport an MSRP to match of $129.95. But buy on the Inverse Shop right now and you can snag a 20% discount, bringing the total to just $102.95 on checkout.