Enhance Your Laptop With These Five Useful Laptop Accessories
Deck out your laptop with this must-have range of tech gadgets.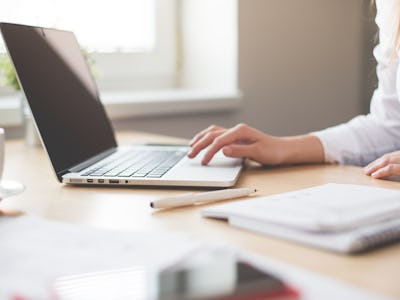 Pexels
For many of us, our laptops are totally indispensable. Just think of how much use they get. We use them while working on the go, pack them to go along on vacation, watch our favorite shows on them, and do everything in between. With that in mind, why wouldn't you want to kit out your laptop with some of the best accessories on the market?
These goodies can carry your computer in style, protect your keys, and even offer additional hard drive space should you need additional storage. Don't just treat your laptop like just another means to an end that you happen to need for work or rely on for productivity. Grab awesome items that can help it transcend its portable nature and give it more of a "permanent" feel, like your desktop PC.
1. Amazon Basics Laptop and Tablet Bag
Cart your laptop around in style with this compact case, available in sizes from 7 inches up to 17.3 inches. Amazon's low-priced laptop case is affordable and offers protection that's also stylish. It features various accessory storage pockets you can put your phone, mouse, keyboard, and other extra items that you bring along with you, and its padded shoulder strap will take some of the stress of carrying it around with you away. Whether you use a MacBook Air or a gaming laptop, this case should fit your needs nicely, even if you only need it for a tablet or other various tech accessories.
2. Seagate Portable 1 TB Hard Drive
Laptops don't come with an unlimited amount of space. Sometimes, you'll find yourself needing a bit more to play with, even if all you typically do is save smaller text files or work. Add some oomph to your hard drive space with this portable external hard drive. You get 1 TB of storage that you can carry along with you and connect and disconnect as you please. So if you find that you need a little extra space to save some important files or just need a safe place to store them as backup, this hard drive should do the trick perfectly.
If you find yourself primarily using your laptop's keyboard when working from day-to-day, you'll want to take some measures to protect its keys. Keep the letters from rubbing off the keys, dust from getting in between the switches, and protect your keyboard from potential spills with this universal keyboard cover. It's made of a thin silicone meant to keep wear and tear from wreaking havoc on your keyboard. If it gets too dirty, you can even remove it, wash it, and replace it after cleaning it and disinfecting it. Extend your laptop keyboard's life with this low-cost solution.
4. Logitech Wireless Wave Keyboard and Mouse Combo
If you're going to work or play for long periods of time with your laptop, using the trackpad and built-in keyboard may not be the most comfortable. This keyboard and mouse combo is an affordable way to upgrade the way you work and play with your portable computer. Its ergonomic wave design makes for reduced stress and a more natural way to hold your wrists when typing, and the precision-laser mouse is much more accurate than using a touchpad.
And if you decide you don't want to use them with your laptop, you can always hook them up to your desktop computer instead, since they're great at pulling double duty.
Laptops are obviously meant to be used while on top of your lap (it's in the device's name, of course). Sometimes, though, they can get pretty hot during use. That's where this laptop cooling pad comes in. All you have to do is place your laptop on top of it and it'll do the rest, offering cooling air flow to keep your laptop's temperature regulated.
You won't have to worry about it getting too hot and shutting down, thanks to 4 super quiet 85mm fans and 1 larger 110mm fan, all of which should help direct heat away from your laptop in an expedient manner. Plus, the fan itself looks pretty awesome, with 10 red LED lights giving it an edgy appearance. Cooling your laptop has never looked, well, cooler!