These Are the Best Mother's Day Gifts for Every Type of Mom
If you're stumped on what to get your mom for Mother's Day, look no further.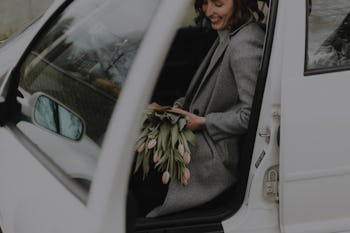 Unsplash / Priscilla Du Preez
Our moms give us everything. They give us life, a happy and comfortable childhood and loads of helpful and thoughtful advice along the way. When it comes time to give a gift to your mom, it can be difficult to think of something as thoughtful and necessary as all the gifts she's given you throughout your life. So often, flowers are the perfect "I'm thinking of you," but if they're all you've ever given, you may want to switch it up.
No mother is just like another, so one-size-fits-all gifts surely don't exist. Below you'll find a list of gift ideas for every kind of mom that show you see her and value her place in your life. So this year you can feel satisfied in what you are able to give to the person who has given you everything you hold dear. No pressure!
For the Mom Always Putting Her Phone Down in Public
Why We Picked It: If your mom is like my mom, she always had her phone in hand and if something comes up where she needs her "phone hand," she will put her phone down on whatever available surface. That might be a public bathroom's sink, the counter at the post office or even the lid of a trash can. Our phones are hubs for bacteria and we put them up against our face. Give your mom the gift of a clean phone with this UV-santizer that charges your phone while it works. Available in 8 unique colorways to match your mom's unique personality.
For the Mom Who Wants to Capture Every Memory on Camera
Why We Picked It: Moms love photos but they aren't always the best at taking them. For the mom who wants to capture every moment on camera but aren't very good with their own camera, the DJI Osmo Pocket shoots great quality photos and stabilized video with just the push of a button and saves to an SD card with ease. Connect to your smartphone with lightning or USB-C port for extra editing options.
For the Mom Who Can Never Decide What Photos to Display
Why We Picked It: Your mom might have more photos of the dog, the extended family, your childhood, her wedding, your wedding and more events and people than she truly can keep track of. In the 21st century, we often have more photos than practical to frame. Now your mom doesn't have to decide what photos to frame with the Nixplay Seed. With up to 10GB of online storage, you can rotate your entire library in the slideshow or select specific albums for specific guests.
For The Mom Who Listens To Music While Doing Everything
Why We Picked It: If your mom is the type to always have music playing in the house, then she needs a good speaker. If your mom also plays musical instruments, this speaker has the added benefit of having an amp jack for portable music playing anywhere you go. The gorgeous design of the Roland Bluetooth speaker makes it a great addition to any decor style and a great gift that feels luxurious.
For The Mom Who Never Knows Where She's Going
Why We Picked It: If your mom is frequently lost or her phone is often dying at inopportune times, one of the best gifts you can give her is convenience. With this magnetic mount meets wireless charger, your mom can clearly see and hear the directions of her phone's GPS without taking her eyes off the road or worrying about her phone's battery power. Works with all Qi-enabled devices.
For The Mom Who Loves Plants, But Doesn't Necessarily Have A Green Thumb
Why We Picked It: Plants bring much needed warmth and life to any space they inhabit, but not everyone is a born with a green thumb. If your mom likes to know everything about her plants, or has a track record of overwatering, this smart sensor will work with the companion app to illustrate what a plant needs at any given time.
For The Mom Who Wants To Eat At Home More But Prefers A Hands-Off Approach
Why We Picked It: As mentioned above, one of the greatest gifts you can give to your mom is convenience. Now, your mom can make restaurant quality food in a fraction of a time and less than 10% of the effort with the help of the Instant Pot. Clean up is a breeze as all internal components can be put in the dishwasher with ease. Perfect for a mom who prefers a hands-off approach or is often too busy to eat well.