Get 61% Off These Comfy Microfiber Sheets
Super Soft, Wrinkle & Stain Resistant, Queen Or King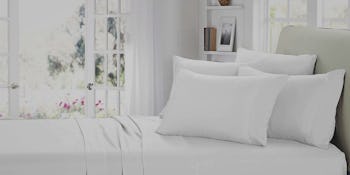 StackCommerce
The Details:
Includes a fitted sheet, flat sheet, and 4 pillowcases
With side-pockets to easily access your favorite items
Made from super soft and durable Microfiber
Wrinkle and stain resistant
Queen or King
Why You Want It:Smart Sheets offer all the advantages of your average cotton microfiber sheets, including stain and wrinkle resistance, durability, and extreme softness. But they really go above and beyond when it comes to their side-pocket design. Without compromising in the style department, Smart Sheets give you a convenient place to store the items you most frequently use in bed, from reading glasses to remote controls to tissues.
The Deal: This is your lucky day if you've been meaning to replace the sheets on that queen or king and you love the idea of side pockets. The Inverse Shop is offering the queen set at just $32.99 after a formidable 58% off the $80 MSRP, and the king for only $34.99 after 61% off of $90.