This Travel Pillow Is a Miracle Cure for Sleeping in Transit
Give Yourself Full Head & Neck Support For In-Transit Sleeping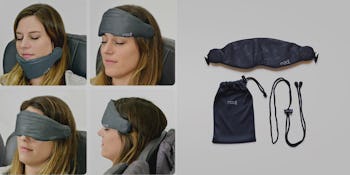 StackCommerce
The Details:
Travel pillow designed to keep you from slumping
Blocks out light and prevents your head from dipping as you doze
Complete head and beck support
Memory foam construction
Easy to clean and stain resistant
Works on any type of seat and all heights
Packable 3" x 5" design
Why You Want It: It's always annoying when you're about to fall asleep on a plane, only to wake minutes later from turbulence or awkward positioning. This is an innovative product that attaches to the back of your seat and covers your eyes as you rest, blocks out light and prevents your head from dipping forward uncomfortably. In-transit sleep shouldn't be so hard, and the Sleep Upright Travel Pillow means it doesn't have to be.
https://www.youtube.com/embed/8zpK9d8XjfM
The Deal: A quarter off MSRP gets you one of these highly practical travel pillows for just $29.99 instead of the usual $39.99 right now at the Inverse Shop.