'The Strain' Recap: Quinlan Is a Mysterious Hunter
A centuries-old hunter sparks more questions than a stale love affair.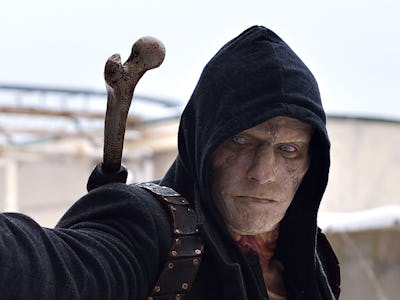 FX Networks
This week, The Strain put newcomer Quinlan and the bloodshed on the backburner and became a meditation on relationships. Some are disintegrating. Some are polarizing. Some are budding. Such is life among the undead.
Dutch's missing girlfriend/roommate Nikki has been holed up in their old apartment since the outbreak, serving mostly as a plot point and a reminder that only weeks have passed in the entirety of The Strain. Nikki's return has signaled the quiet, abrupt end of Dutch and Fet, who had a nice little romantic thing going. It's a triangle! W/E!
For a solid majority of "The Born" we deal with Fet's jealousy and anger over the end of him and Dutch. He's a tornado that makes a beeline for Eph and Setrakian's metaphorical trailer park. But Dutch seems pretty chill about the whole thing. We don't know who she'll choose, if anyone. We don't know if she'll bother.
Oh, also, vampires are still trying to take over the world. The stakes in this episode feel a bit lopsided. A nasty Strigoi bite might turn this detour into a cul de sac. That wouldn't be the worst thing.
But Quinlan, the mysterious hunter, retains his cool even when others take his spotlight. Oh, and he's invulnerable to UV lights, unlike Vaun and his crew, who were cooked well done. A half-human/half-vampire, Quinlan is a rare and dangerous breed. Meeting Setrakian and Fet in the factory where The Master's nest lies, we learn Quinlan was once an English-speaking, British-accented Roman warrior. It was back then, as an arena gladiator, that Quinlan got his "full education" under a senator. Quinlan's been looking for The Master for a really long time.
How will Setrakian get along with him? Will they even bother? With no indication Quinlan will join the Scooby Gang, it will be a race to see who can behead The Master first. And Setrakian's mortality will make it hard for him to keep up. This seems to make the guy angry, but we'll let that thread unravel over time.
How has Quinlan been wrestling with The Master "all his life" when his life spanned centuries? That would be one of questions that needs answers. For now, Quinlan is the show's central mystery and presumably also its engine going forward. He hasn't even met Eph, who has now decided that he's going to kill Eldritch Palmer.
So, yeah, lots of questions.