'Fear the Walking Dead' Premiere Recap: Travis Is the Anti-Shane
The premiere of AMC's new tentpole promised a lot, but not too much.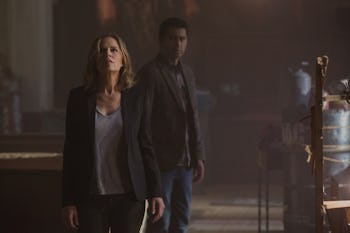 AMC Networks
Fear the Walking Dead's goal is right there in the title. Five and counting seasons after Rick et al. started slaughtering the undead, it's hard to take the locomotive diseased seriously. To force us to do that, AMC has gone back to the beginning and relocated us as well. Can the show make the creatures that its network domesticated scary again? To a certain degree.
Like all little brothers, Fear the Walking Dead wants to emulate its big while also proving its independence. Where the original felt wide open, Fear is crowded and urban. If Walking Dead is about random people making a family, Fear is about a family disintegrating into randomness. But the differences are outpaced by the similarities. These shows are about loss and heartache and zombies. We don't need to overcomplicate that.
The biggest challenge Fear the Walking Dead faces is that we know what's going on and what will happen. But the apocalypse we know is just beginning, and Fear uses our knowledge to free up time for characterization. Here's what we get:
Matriarch Madison Clark (Kim Dickens) is a high school guidance counselor haunted by her own failures as a parent.
Her son, Nick, is a 19-year-old junkie.
Her daughter Alicia (Alycia Debnam-Carey) would be great if she'd get the headphones out of her ears and stop talking about her boyfriend.
Travis (Cliff Curtis) has stepped up as step-father to Alicia and Nick. An English teacher who knew exactly what he "signed up" for marrying into this pre-started family, he's Fear's anti-Shane, carrying the best qualities of Rick but in Shane's shoes.
As for the apocalypse, it's a slow burn: Classrooms are getting emptier, the sirens of L.A. are more frequent, and the hospitals are busy. Whatever "it" is, and it's decidedly called "it" because "zombies" is a word left unspoken.
The Walking Dead earned praise for its pacing, suspense, and twisted character drama. Fear has inherited a lot of those good things. The broken church where Nick and fellow junkies dwell recalls seems scary, especially when Travis is exploring it, in a way nothing on The Walking Dead has seemed scary for years. (Squint and you can imagine you're playing Silent Hill) This is where Fear shines: When it really does go back to the survivalist beginning. A single gun's appearance, more than an hour and fifteen minutes into the episode, brings with it suspense, tension, and — oh hey, fear.
The cinematography is also great.
Still, beauty only runs skin deep. The tension of Fear the Walking Dead isn't plot related, it's a product of the audience wondering if it will be fine or better than that.
The Walking Dead was never about zombies. It's about people and what happens to them when everything is gone. There's still plenty to lose on Fear the Walking Dead, which means that the characters are slowly realizing that they have good reason to be scared. They're not quite sure why yet, but we are.