The Best Sleep Solutions You Can Buy Today for a Better Night's Sleep
How much time do you spend in bed? Most of it, right? Shouldn't that be the most comfortable place in your world?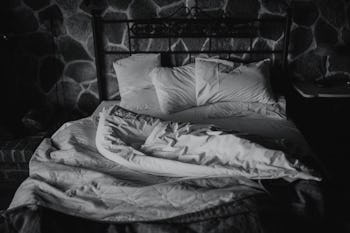 Unsplash / Harris Ananiadis
If you don't sleep well, every part of your day is terrible. If you do sleep well, everything goes better, including sleep! Your bed, bedroom, and bedding are key to making your bed a place you want to return to, that recharges you, and that you sleep — and read — in happily.
Here are the tools to get there. The basics, the essentials, and the not-so-necessary niceties.
There is no longer any excuse for sleeping on a crap mattress. You can order one — all scrunched up and stuffed into a box — online and it will be there in days. Unpack it and let it self-inflate and you have the sort of comfort that once cost thousands of dollars. This one is pretty as well as comfy.
Tossing and turning and waking up with a stiff neck? That might be your pillow. Many are too high. Some are too firm. Finding a pillow to fit you can be a lifetime undertaking. Or, try this: A pillow filled with buckwheat. It adjusts to your sleeping style. You can take out some filling if you like. Then get comfy and you just stay. Right there. Very nice.
Crisp, cool high-thread count cotton sheets are like a form of heaven. These will fit the thickest mattress, and are plenty long. They wash well and get softer every time. Delicious. This is a complete set.
Why would you have an alarm clock when you can just say, "Alexa! Set an alarm." She will tell you the weather when you are getting dressed in the morning. Read books aloud to you when you are too tired to read. Play the sounds of the beach when you can't sleep. She will even turn the lights off or close the garage door, if you have the right smart home appliances for her to work with.
Light pollution keeping you awake? Whether that pollution takes the form of street light, a bed partner with a reading light, or a schedule that has you sleeping at odd hours, this will take care of it. Soft, silky, and simple.
Is noise pollution the problem? These will bring complete silence. That, in itself, might be hard to get used to. But once you do, you will sleep like a teenager. No one will be able to wake you.
Do you read on your phone? Watch movies before bedtime? The blue light coming from your screen tells your brain that it's daytime and messes with your circadian rhythms so that you might find it hard to sleep afterwards. Check your lightbulbs for blue light. Turn off the screens. Or wear a pair of blue-light filtering glasses late in the day so your brain can calm down.
Dial up the relaxing scents with an essential oil diffuser and a calm colored light. Breath deep and enjoy the smells as you drift off. This set looks nice on your bedside table and will fill the air with your choice of scents to set the mood.