The 'Six Feet Under' Finale Really Is As Good As Everyone Says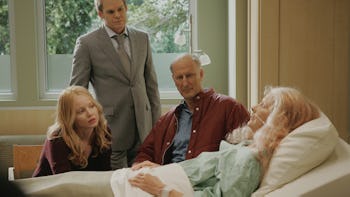 Everyone's swept up today in nostalgia for Six Feet Under. Me included.
Today marks ten years since HBO's drama about a family of funeral directors came to a close. Over five seasons we came to know, love, and at times downright loathe (Gah! Brenda!) the Fishers and the various esoteric figures orbiting their lives. A show which began with the demise of family patriarch Nathaniel, whose presence lingered on throughout the show, adding a blanket of black, black comedy to proceedings, and wrapped up with… no, not yet.
Six Feet Under covered the whole spectrum of human experience across its 63 episodes. Death was, of course, always at the wheel. The Fishers were destined to examine their own mortality with a tad more urgency, due to the nature of their profession. Nate and David in particular, who steered the Fisher and Sons ship once old pop passed on. It gave the show a license to let its characters do whatever the hell they wanted, taking us along to vicariously soak up their pursuits. The funny stuff, the sad stuff, the really sad stuff, and the happy-go-lucky wacky stuff.
So yes, the series on the whole is showered with acclaim that it absolutely deserves. But take a glance at some of the coverage online today to see if you can spot a pattern:
To answer that last headline: yes, it really is superb. Tying up those loose ends to connect with the overarching message threaded through the show, right from the beginning. Even if you're completely numb to it, if you're used to handling the bodies, the bereaved, and the bureaucracy: Death comes for us all. Even the Fishers, the ferrymen of Pasadena. The last episode, and specifically, its closing montage is beautiful and bleak and terrifying and rewarding. The tears generated by watching that last vignette have sparked a whole subcategory of thinkpieces.
I built up to watching the finale, prepping myself mentally for whatever was about to happen. It couldn't be any more harrowing than the events of the previous couple of episodes, could it? It could and it was and I sobbed. The coda builds, the bittersweet strains of Sia's Breathe Me throbbing beneath, taunting you to fight back the tears, with shots of youngest Fisher Claire heading off to her new life. Intercut with flashes forward of all the show's characters in their final moments… it's brilliant, brilliant television. I would write more, about why it works, how it perfectly weaves hope into our darkest, most fearful moments, how it makes me respond… but I can't say more than that. Because I'm already struggling to see my screen. Damn.