The Best Pet Supplies That Are Selling Out on Amazon
Skip the pet store and get the best goods you need for your fur balls right here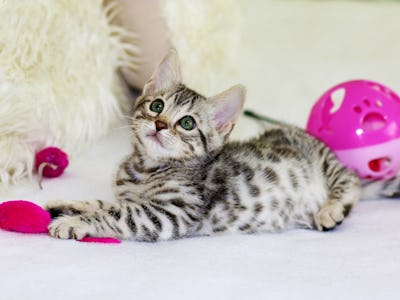 Unsplash / Kim Davies
There is a reason that cats have taken over the internet. They are adorable and stress free, which is more than anything else on the internet can claim to be. Except maybe dogs.
If you have a pet, you probably love to spoil her with fine food, luxurious bedding, and toys. So do we. But we don't like to leave our pet alone while we go to the pet store to get these things.
Solution? Amazon, where the pet toys are abundant and inexpensive, the food is bountiful, and we can shop from the dog park or with kitty in our laps.
Here are the goods that Amazon shoppers are going crazy for right now.
A new puppy needs to let you know when she has to go outside. What are her options? Bark? Scratch the door? None of these are behaviors you want to encourage. Hang this on the door nob and teach the pup to ring the bell.
Bored cats are destructive. Without proper mental stimulation, they get lazy and apathetic. This toy engages their minds with a challenge: Get the toy or treat out of this puzzle box. They have to work at it. And it will keep them busy for hours.
Love that pet? Put a tag on it! Choose from a variety of colors and shapes, enter your pet's name, and your contact information. Then hit order! Easy! And the tag will come to you, eliminating another errand. Pro tip: While you are at it, order a spare in case kitty loses it. Also, these make great key chain ornaments. Put your name and number on it in case you lose your keys.
Giving the dog a bath does not have to be an ordeal. You just need the right tools. Rather than trying to lift a squirming dog and drop him into the tub, give him something firm to stand on in the shower, on the patio, and give him a shower with this shower attachment. You'll be able to get all the difficult to reach places and the dog won't freak out and run all over the house soaking wet.
Some pets will drink from a water bottle. Many will not. But they need water! Throw one of these in the car and you can fill it from your own bottle or any clean water source you find along the way. Carabiners make it easy to take these camping. Just clip them to your pack — or your pup's!
Tired of cleaning the floor around the pet-food bowls? That would make you a normal human. This solves that. Put the bowls on this and it will trap all the water and food, keeping the floor dry. Just pick it all up and run it under the faucet to clean it.
A pet carrier is a necessity. But they can set you back a shocking amount of money. This Amazon Basics version has all the features — easy open front, top load option, snap off top for storage — and none of the expensive.
Never run out of dog. Never struggle to carry a giant bag of kibble up the stairs. Order it from Amazon, sign up for Subscribe and Save, and it just shows up when you need it. Lots of brands and flavors to choose from. So stop taking time out of your Saturday to pick it up.
Give your pet a pet! Or three of them. These won't leave stuffing all over the house because they don't have any in them. They squeak, though, or make other noises. And they are super cute.
Your pet needs her own bed! It gives her a place that's her own, keeps her from sleeping on your pillow when you aren't home, and looks adorable. This one looks like bliss and comes in sizes to fit every animal.
Best Friends by Sheri Luxury Shag Fuax Fur Donut Cuddler
Best Friends by Sheri Luxury Shag Fuax Fur Donut Cuddler