Be a Good Kid and Take Your Mom to the Movies on Mother's Day
All these awesome movies are coming out! Take your mom to one of these shows.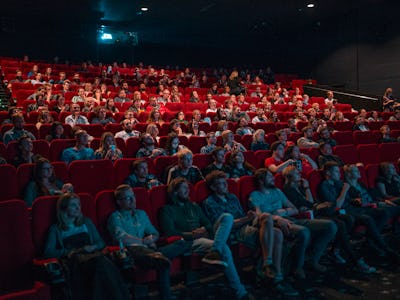 Unsplash / Krists Luhaers
Mother's Day is Sunday, May 12th this year, and that means that you still have some time to come up with a present for your mom that she'll actually want. But if she's more of a "don't get me more stuff" kind of person, spend some time with her instead! And there's no better way to spend a weekend than at the movies. With the number of blockbusters that are currently in theaters—or about to hit the big screen—before Mother's Day, why not take your mom to see one of these movies.
Avengers: Endgame
The latest installment in the MCU officially opened on April 26th. But if your mom isn't the type to brave the hoards and be first to the theater, there should be fewer crowds on Mother's Day. Without giving away any spoilers, Endgame wraps up the dramatic cliffhanger ending from Avengers: Infinity War. Will the Avengers triumph over Thanos or are some of our most beloved superheroes gone for all eternity?
Captain Marvel
Captain Marvel was released on March 8th, but with a 78% Rotten Tomatoes score and a 4 and a half star fan rating on Fandango, this is a great option if you and your mom opt for a double feature. If you're a stickler for sequence, then you should really see this before heading to Avengers: Endgame. The movie shows something that we already knew—women know how to get things done.
Us
Maybe you're not into superhero films, but you love a good thriller. Then you should check out this second mind-bending suspense movie from Jordan Peele, the director who brought you Get Out. While not quite a horror movie in the traditional sense, Us will have you questioning your own past and looking over your shoulder when a shadowy figure passes you in the night. Us was released on March 22nd and will still be freaking out moviegoers on Mother's Day because it's just so good, it's not going anywhere.
Long Shot
Is your mom a hopeless romantic? Does she love the idea of two seemingly opposite types being attracted to each other and finding love? Then Long Shot is ideal because it pairs an unlikely duo—Charlize Theron and Seth Rogen—in a romantic comedy with a political backdrop. Charlize Theron plays a driven and successful presidential hopeful who hires a former childhood friend (Rogen) to work as her speechwriter. Hilarious hijinks ensue, but will he get the girl? Long Shot opens on May 3rd and already has an 85% score on Rotten Tomatoes from the critics.
Poms
Older women refusing to be ignored is our kind of film. And if the success from television shows Grace & Frankie is any indicator, Poms will be a hit on the big screen and with a large audience, as well. The movie follows the story of a group of women who all live in a retirement community. Tired of playing it safe, they form a senior citizen cheer squad and prove that you're never too old to chase your dreams or let go and have fun. The movie features an all-star cast with greats like Pam Grier, Diane Keaton, Jackie Weaver, and Rhea Pearlman, and opens on May 10th, just in time for Mother's Day.
The Hustle
You can't go wrong with a comedy, and this time it includes the funny duo of Anne Hathaway and Rebel Wilson. Both actresses have proven that they know how to hit our funny bones. This time, the two pair up to prove that the old saying "hell hath no fury like a woman scorned" is true. Hathaway and Wilson play a pair of con artists who decide to team up and take down the men who have wronged them. The Hustle begins playing in theaters on May 10th.
Tolkien
If your mom is a big J.R.R. Tolkien fan, she might actually be interested in the story behind the man who wrote The Lord of the Rings and The Hobbit. Tolkien follows the real-life story of the famed author as he comes of age with World War I as a backdrop. You might be surprised to learn that he was an orphan and was inspired to write his iconic books because of traumatic events that took place during the war. The film will be released on May 10th.