Snatch the Best Headphones for Weightlifting
Don't Benchmark With Any Average Headphones. Weightlifting Requires That Little Extra.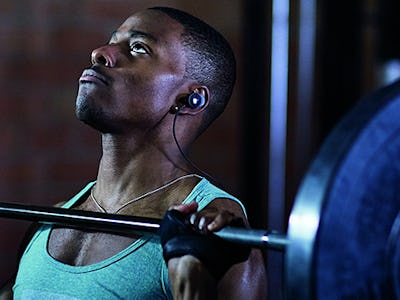 T Nation
Headphones are a tricky and often costly item for your workout. Many claim a perfect fit for your gym-life but rarely do they consider weightlifting. When you are looking for the best headphones for weightlifting, there are three very important factors you cannot afford to ignore:
Sweat Proof. Otherwise, they are going to be damaged within the first workout and then you're back to square one.
 Secure. They don't have to be wireless but it helps reduce risk of tangles and choking yourself. On the other hand, if they are wireless and pop out during a simple clean and press, then you are going to lose precious time searching for them. Whatever your personal preference is, make them secure. 
Noise Cancellation. You do not want any distractions while focusing on your PB. Pretty simple, really.
If money is no problem and you only want the absolute best, then these truly wireless babies are for you. The fit is unbelievable and provides a surprisingly high quality of sound with punchy bass. With 12 hours of battery life, fully water-resistant, mic and single control buttons, and their own App to fine-tune the audio… if only they had a feature to help locate the buds if they go missing. Wait!! They have that too!! Seriously, the Jaybird Runs are the most expensive option here but they are the best in what they do and what they give you.
As true wireless headphones go, the Jabra Elite Sport is designed for high-impact and high-intensity workouts. Yes, these are water and sweat resistant. The controls are easy to control on the ear loops. Take the extra time to make them fit because the Jabra Elite Sport will then cancel out any distractions around you. Extra bonus: They also come with HearThrough, to allow outside noise to come through on the microphone (to help with situational awareness). While over-the-ear loop designs won't suit everybody, these are secure enough to hold on tight.
Okay, so they aren't the prettiest of headphones but we're looking at performance, not just presentation. If you are worried about finding the balance between secure fitting and comfort, Bose has nailed it. Although there is a bit of noise leak from your surroundings, the Bose sound quality delivers over and above anything around you.
With sport comply foam tips, you can have a comfortable fit and almost perfect noise isolation. Better still, it's a comfortable and secure fit, with no movement once you have them in your ear. The sound comes through strong and clear without interruption, supported by a strong reinforced cable.
Plantronics BackBeat FIT Wireless
If you don't like anything weighing over your head but you're not a fan of "stick in your ear" designs, then check these out. They fit around your head while sitting in your ear and don't leave any wires dangling down your neck. This adds extra security to the fit, allowing greater movement in your training. The sound is not the best but if you are a casual listener with plenty of movement, these are the set for you.