Get Your Pooch's DNA Profile With This Easy Kit—25% Off
17% miniature pinscher, 30% chihuahua, 8% Australian Shepherd, 45% "assorted hound," 100% very good boy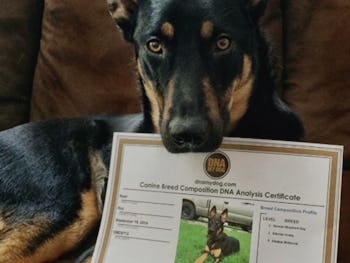 StackCommerce
The Details:
Get a complete DNA profile of your dog in 2 weeks
Learn breed makeup and predicted personality traits
Get a heads-up on your dog's predisposition for disease and health concerns
Simply swab your pet's cheek and mail it in for the results
Why You Want It: So many of us have mixed breed dogs and no real idea of their DNA makeup, outside of some guesses. This is a handy mail-in kit that gives you an accurate breed profile of your pooch via a simple cheek swab. In just two weeks, a comprehensive report is sent back to you detailing your pet's genes to a T—you'll even gain useful information about the dog's risk for disease and any other health concerns you should look out for.
The Deal: Check out the 25% off deal—you can get the DNA My Dog Breed Identification Test and solve the genetic mystery of your pooch for only $59 instead of the normal $79 right now at The Inverse Shop.