3 Wireless Chargers to Get for Cheap
Don't spend $50 on a wireless charger that a $20 can do.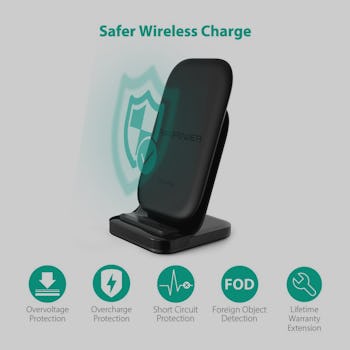 Amazon
Wireless charging is a luxury method of charging up our devices, but it's also so important, as it's one step further in our attempt to free ourselves from wires. Most flagship smartphones now ship with the feature, so you may be in the market for a quality wireless charger. That is one thing that we are not in short supply of. The only problem? They can get very expensive, which is a problem.
It's a problem because wireless chargers have been around for years and the standard really hasn't changed much. It's improved, yes, but the creation of wireless chargers didn't get any harder. Why? Because we have 3 cheap wireless chargers below that can go toe to toe with any other overpriced charger out there.
Seneo WaveStand
If you're looking for a solid charger that's cheap, stands upright, and supports fast wireless charging, look no further than the Seneo WaveStand. For Android devices that support it, the WaveStand will charge your device at 10W and iPhones 8 and up can be charged at 5W.
The WaveStand also includes temperature protection, input voltage protection, input current protection, short circuit protection, and other multiple safety protections in place. To make things even better, it comes with a 3-year warranty, which is highly impressive. Best of all, it's only $20.
RAVPower Wireless Charging Stand
RAVPower is already responsible for some of the best cheap charging bricks around and it offers up an equally impressive wireless charging stand as well. Unlike some of the other options, like the Seneo, this charger will charge iPhone 8 and up at 7.5W, which means faster charging. Again, Android devices that support fast wireless charging get the upper hand and will be able to the full 10W the charger can muster.
Another treat you get with this charger is that it actually ships with a QuickCharge 3.0 adapter in the box, which will save you an extra purchase, but it also makes the charger a touch more expensive.
Yootech Wireless Charging Stand
If you're looking to get a quality wireless charger without breaking the $20 mark, you're in luck. The Yootech Wireless Charging Stand is every bit as solid as it's competitors and is only $18. Fast wireless charging for compatible Android phones? Check. 7.5W charging for iPhones? Check. That's not all, either!
As with the above two chargers, Yootech's come with two coils so you can charge your phone vertically or horizontally. It can even charge through cases as thick as 4mm, so if you have a case that's any thicker, you'll need to remove it to successfully charge your phone.
Possibly the best part about buying this charger is that it comes with a lifetime replacement warranty, which is bonkers. The Amazon description also promises a 12-hour response time for service inquiries, which is impressive.