Artists Explain How to Buy Art on Instagram
Instagram is empowering collectors and artists. They just need to get on the same page.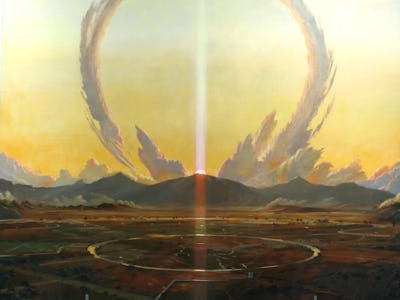 The ink spilled after Leonardo DiCaprio spent $15,000 on a Jean-Pierre Roy painting he'd found on Instagram. Unwittingly, Dicaprio's purchase became a Rorschach Test for the art community. Some gallerists saw a threat, others an opportunity. As social networks, and Instagram in particular, become a forum for both appreciation and sales, the audience is getting bigger and a world once dominated by whispery auction houses like Sotheby's is being rendered far more transparent.
The promise of Instagram, for artists and collectors, is that it might remove middlemen (and the percentage they take), allowing for a more efficient and friendlier market. And there are remarkably few obstacles in the way of this happening. Diving down the rabbit hole of a hashtag like #artforsalebyartist, one finds more than 800 posts, including art by William Suran, who posts pictures of peonies he draws freehand that sell for around $50.
"I've been able to sell to as far as Finland and Australia," Suarn, who lives in Brooklyn, says of Instagram's reach. "Instagram is a great way to get people you don't know to look at your images and it doesn't take a cut, so there's that, too."
Rachel Parry is a surrealist painter rafting the #artforsalebyartist stream. Parry lives and works in Toronto and thinks that Instagram "is a superior tool" in that "the entire system is picture-oriented. People can see your work with fewer clicks, from the comfort of their own phone, and above all, with no actual pressure to 'buy buy buy.'"
Parry says she draws inspiration from "the unfathomable talent" of other artists on Instagram, whom she interacts with "primarily in 'liking' and 'following', though I have also spoken with a few." She uses the social network to conduct business, but also to find new influences. It becomes, in a sense, an art world unto itself.
Joshua Jenkins, a "street artist" who lives in Lexington, Kentucky, says Instagram has supplanted Facebook as the network of choice because of tweaks to Facebook's algorithm, which privileges paid posts.
As for securing the work itself, Instagram's artists have a few strategic tips:
In the absence of an appraiser, ascertaining the provenance of a work is up to the buyer. Artists recommend looking for in-progress shots of works in order to avoid scammers.
Jenkins, who works on larger canvases, stresses the importance of considering dimensions. He says that conversations with buyers sometimes don't end in sales because "people don't get a sense of how big my work actually is."
All three artists recommend that potential buyers spend a lot of time on Instagram looking into the provenance of pieces and thinking about what they appreciate on their screen rather than in their living room. Buyer's remorse is far more common in people trying to make a piece match their sofa than in people who actually like art.
All three prefer to be reached by direct message rather than email. Serious conversations can be easier to have on the phone, but that's largely a matter of the buyer's preference and willingness to pay the listed price.
All three artist rely on Paypal for transactions, but are familiar with Venmo if you're into that whole thing.
Perhaps the most important thing to remember through the whole process is that the artists selling their work on Instagram are not Instagram Artists. They are sculptors or painters or photographers, and they want to be treated with respect. Talk to them about their process, which involves a great deal more than posting images on the internet, and things will go way more smoothly.
Also, you'll understand what you bought.