Spend Your Tax Refund on This Dank-Ass Couch
Because you earned that money and that relaxation.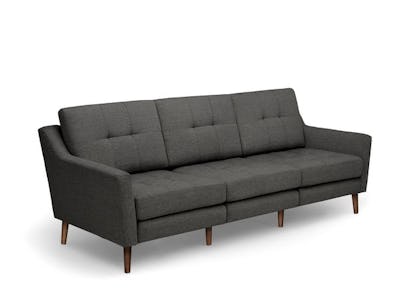 Huckberry
Your tax refunds should be in by now, and you're likely looking for the perfect item to spend it on. Well, may we suggest this trendy three-seat couch from Burrow?
Whether you live in a small NYC apartment or are looking to fill out a larger living room or entertaining area in your home, this couch can fit well anywhere. Its chic modern design is simplistic yet will pull together a room in all the right ways. There are options for charcoal, crushed gravel, or navy blue, all neat and uniform colors that go with all your other decor. It won't necessarily be the popping accent piece but will instead tie everything together cohesively.
Kick back and relax on this cozy couch on your weekends, or spend some time literally working from the comfort of your couch. There's even a hidden USB charging port available in the couch so you don't have to get up and dig around for your charger.
You earned those taxes from working so hard all year, meaning you earned this couch. Now settle in and give yourself some much-needed relaxation.