Leaked Uber Docs Forecast Company Will Book $26 Billion Next Year
A slideshow for investors predicts a bright future and an IPO in the next two years.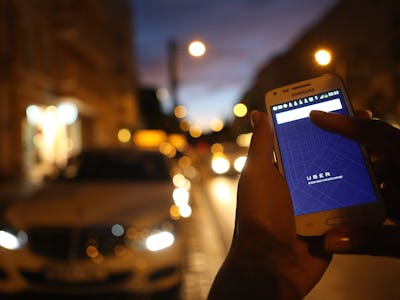 Getty
Uber says it's going to book a blasphemous amount of cash next year on its way to an IPO, but there are still questions about how many of those dollars make their way to the bottom line.
Reporting on a confidential slideshow aimed at Chinese investors, Reuters reports the company estimates it'll close 2015 with $10.84 billion in global bookings and hit a little over $26 billion next year. Those are impressive figures as the company preps for an IPO it told investors could come in 18 to 24 months.
The company keeps 20 percent of those bookings, meaning it will rake in $2 billion of 2015's take. Still, that's a colossal number for a 6-year-old company. For an interesting comparison from Business Insider, consider Facebook only this year generated $10 billion, and that company has been around for a decade.
The lion's share of Uber's revenue comes from the 10 cities that adopted it early — big markets like San Francisco and New York — but as commuters around the world get in on the service, now operating in more than 45 countries, growth could hasten.
The slideshow said that state-owned China Life Insurance Co. and China Taiping Insurance had both already invested in Uber during the past year.
No doubt Uber's market surge has been striking, but the one thing missing from its investment pitch, and from business stories since its inception, is whether $2 billion puts the company in the black. The company blows a ton of cash on marketing and recruiting. No one's sure of average ride costs, or a certain figure on active drivers. Then there's this terms sheet for investors uncovered by Bloomberg last month that says Uber had $470 million in operating losses on $415 million in revenue. The one thing that does seem certain is that Uber is run by some very aggressive salesmen.