These Do-It-Yourself Beer Brewing Kits Should Be on Your Spring To-Do List
To make the most of the warm weather, indulge yourself with some new hobbies.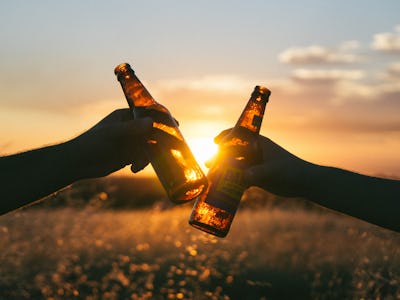 Unsplash / Wil Stewart
Whether you are a devoted DIY-er committed to a lifetime of choosing artisan wherever possible or you just want something different to serve to your beer elitist in law at the next occassion, home brewing is most likely for you. It's pretty hands-off and there are a million and one different kits with all the tools you need to get going. I've pulled together a few of Amazon's standouts.
Home brewing beer is one of those hobbies that seems to have infiltrated the mainstream around the same time everyone started lying about preferring IPAs. Because of this, home brewing gives the impression of being laborious and expensive when it's neither. With any of these beer making kits, you can get your brew going right out of the box and you're pretty much as good as done until bottling.
Making a perfect birthday gift, Father's Day gift or a gift to yourself, brewing beer at home can slash even the thirstiest's bar tab.
Amazon's Highest Rated Starter Kit
Why We Picked It: Boasting 4.5 Stars on Amazon, this home brew kit doesn't tell you what kind of beer you should be making, instead it offers you options. Designed by brewmasters to provide an easy, yet intuitive brewing experience, this brew kit includes the recipe kit for your chosen brew, 6.5 gallon fermentor with lid and Bubbler airlock, a bottling bucker, botttle filler, 5 gallon stainless steel brew kettle and more. Yields 5 gallons of finished beer.
The Perfect Kit For Someone Just Looking To Get Their Feet Wet
Why We Picked It: If you've never brewed beer at home before and you're not quite sure if it's for you yet, this ulta-affordable beer kit will brew a completed 2 gallons and includes everything you need—even bottles—to get started right out of the box. Brought to you by Australias largest craft brewery, Cooper's, every ingredient has passed rigorous quality control tests to deliver you the best finished product.
Why We Picked It: If you're a savvy online shopper, you know that the top tier brands aren't always the best place to try something new to you, but you also know that the cheapest brand won't always deliver the most honest quality result. For a solid mid-range homebrewing kit, consider trying the well-reviewed brew kit by Midwest Supplies Beer. Perfect for all kinds of new comers, this brew kit will leave you with 5 gallons of Pale Ale to share with whomever you choose.