Whiten Your Teeth at Home Without the Crippling Dentist Bills
Uses Advanced LED Tech & Quick-Acting Serum For Amazing Results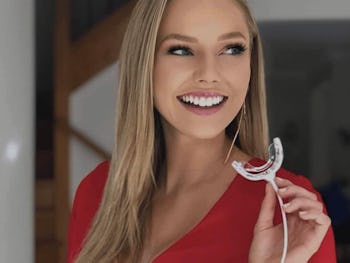 StackCommerce
The Details:
Professional-grade at-home whitening solution
Uses advanced LED tech with a proven whitening serum
Works on all stain types
Recommend by top dentists
Doesn't cause enamel erosion, dehydration, or any of the harms associated with other solutions
No prescription required
Comes with one LED activator, 1 year's worth of serum, and a 5-year warranty
Used by A-list celebrities
99.3% approval rate
Why You Want It: For the average person who'd like to keep their teeth as white as possible, the Snow Teeth At-Home System is a bit of a dream come true. It uses the same essential LED tech and whitening serum as professional dental solutions you find at the office, without the high cost. Plus, half the battle of traditional whitening is actually getting to your appointments—at home systems cuts out the middleman, resulting in a more regularly whitened smile.
The Deal: Yes, this is definitely an advanced solution that demands a certain cost, but don't count yourself out on that basis just yet. The Inverse Shop currently offers 60% off the $300 MSRP for an out-the-door price of just $120. Just order, un-box, and you're off to the races on those bright whites.