This Toilet Light Will Literally Light Up Your Life
Auto Turn On Via Motion Sensor & Cleans Bacteria With Special Non-UVC Light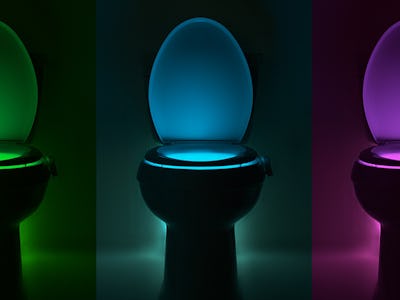 StackCommerce
The Details:
Subtle toilet light for late-night bathroom trips
Automatically turns on when you walk in via motion sensor
Non-UVC wavelength fight against bowl bacteria
Choose from 8 colors or patterned light
Select from 3 dimness settings
Easily snaps onto any toilet
Battery operated
Why You Want It: When you get up in the middle of the night to go to the bathroom, obviously it helps to have some light to find your way around. At the same time, flipping your normal bathroom switch might seem overly harsh. IllumiBowl automatically turns on a subtler, not-too-bright LED whenever you approach the toilet. As an added bonus, this gadget's non-UVC wavelengths are deadly to all those nasty bowl germs.
The Deal: The MSRP's not too bad at $29.99, but luckily right now The Inverse Shop has the IllumiBowl for only $22.99 after a 23% discount. If you've found yourself wishing you had a better late night light-source in the bathroom, or even just a cleaner toilet, this is a great buy.