Browse Smarter and Safer With 96% Off This Leading VPN
Protect Your Privacy, Kill ISP Speed Throttling, Bypass Content Restrictions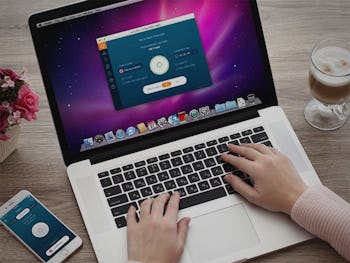 StackCommerce
The Details:
Go anonymous with 256-bit encryption
Say goodbye to geographical content restrictions
Block ISP speed throttling
Works with home theater software and P2P sharing
Use on up to 5 devices at once
Why You Want It: VPNs encrypt your online presence against criminals who want to steal your identity or other shady characters who'd like to invade your privacy. They also lift any speed restrictions your ISP might be imposing, not to mention allow you to easily access content originally limited to certain areas of the globe. Unfortunately, new VPNs are also a dime a dozen. As an official partner of the National Cyber Security Alliance, Ivacy is guaranteed to be legit.
The Deal: If you head over to The Inverse Shop, you can currently get 96% off Ivacy—-that's $39.99 out the door instead of the usual $1,194 for the winner of the 2019 BestVPN.com Fastest VPN Award, and one of the most trusted VPNs in the world.