Get Practical Summaries of Top Business Books for $3/Month
Readitfor.me Is Changing The Knowledge Game For Business Professionals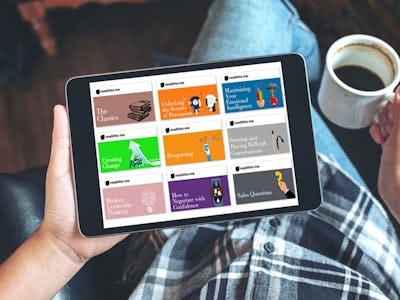 StackCommerce
The Details:
Unrestricted access to 12-minute summaries of the top business books
Titles include books like Steve Jobs, Made to Stick, Rework, and The 7 Habits of Highly Effective People
Includes video summaries for improved understanding and retention
Summaries are tailored to business pros, focusing on practical ideas and tips
Lifetime, 5 or 1-year subscriptions available
Why You Want It: The business world is constantly changing. Naturally, the best way to keep abreast of that change is to read books written by experts in their respective fields, but who has the time? Readitfor.me] automatically distills the most breaking business books into 12-minute summaries for regular consumption, letting you absorb current knowledge and trends without the dent in your schedule.
The Deal: Pay $199 after 91% off the $2280 MSRP at The Inverse Shop right now for lifetime access—that's a fraction of the price you'd pay for so many books, let alone the luxury of specially-tailored summaries. If you'd prefer to try Readitfor.me out, the $29 1-year option saves you 87% off the $228 MSRP, with the 5-year is only $99 after 91% off the original $1140.