This CBD Company Is Bringing the Effects Right to Your Door
Eaze Wellness makes it easier than ever for you to access weed products.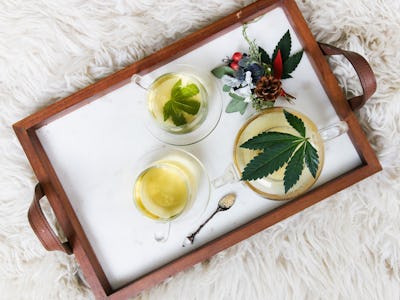 Unsplash / Kimberly Nanney
It's 2019, weed has entered mainstream conversations in ways unlike ever before. Once stigmatized as only a time-waster for teen burn outs and basement dwellers, in 2019, you'll have a hard time finding anyone who doesn't have a vaporizer in their pocket. Older people and others who struggle with chronic pain and illness have turned to CBD and THC products in hopes of holistically treating symptoms that plague their daily life.
Not too long ago, seeking out any kind of weed product—psychoactive or not—involved some kind of shady dealing in hushed tones, but now that weed has taken root in polite conversation, ordering weed can be as easy as ordering a pizza. With Eaze Wellness, you can explore the whole wide world for CBD products in their many forms. And if you live in a state with recreational THC legislation, you can also experience their plethora of THC products.
First time customers will get $20 off their order and in the world of weed, you should easily be able to do the math on the quality of that deal. Imagine the beauty of walking into a head shop with products you've never seen before. Now imagine being able to have that experience from the comfort of your home and then being able to order it right to your door.
Eaze Wellness makes it feel like the future has arrived. With a wide array of products ranging from gummy chews to CBD vaporizer cartridges to distillates and concentrates to bodycare and even something for your pet, what more could you want in a convenient online store? Whatever you may be seeking in a CBD product, Eaze Wellness's full stock of products and their comprehensive descriptions are sure to push you in the right direction.
Suffer from chronic pain? Look into their expansive line of topical products, creams and balms. Want to experience a chill in the literal sense? There's a CBD tablet or capsule for that.
Eaze Wellness aims to be your on-demand concerige for your latest weed-related curiosities. Armed with great information about their products and CBD itself, you can rest assured that Eaze Wellness prioritizes their customers and their intended experience with their products. With a product curated for any type of person and lifestyle, there's sure to be something for everyone. So go, get $20 off and start living your best life today. Your health, your body and your mind will thank you.