8 Stress Relieving Products You Must Have in Your Home
These days, stress can get the best of you thanks to busy schedules and a draining work-life scenario. But these eight products can help put a bit of balance back into your life.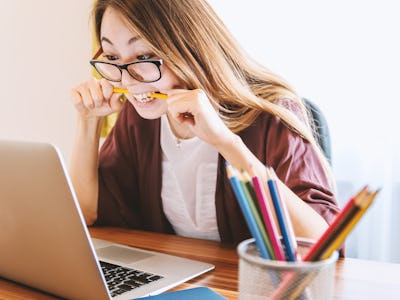 Unsplash / JESHOOTS.COM
These days, everyone is stressed. From ridiculous workloads to social calendars that are impossible to maintain, we're all trying to do more in the same amount of time. So, it's no wonder that we're overworked, stressed and desperately looking for ways to bring a bit of balance back into our lives. While you might not be able to switch careers or turn off all of that external stimuli, you can take a page from those self-care gurus and grab a few of these stress relieving products to achieve a moment of calm.
##HealthmateForever High Quality Pulsating Vibrating Relaxation Pillow
Sleep can feel elusive if you're in physical pain. So, anything that can help you to get 40 winks, is a must-have item. The HealthmateForever pulsating and vibrating pillow gives you just the right level of gentle vibrations to help soothe tired muscles in your neck or back and lull you into a calming state. The pillow measures 14 by 14 inches and is battery operated. It turns on by simply laying down on the pillow and automatically stops vibrating when pressure is removed. According to Amazon reviews, this pillow is a lifesaver for sciatica sufferers.
##Gamma Ray 003 Anti UV Glare Harmful Blue Light Computer Glasses Readers
We all know that sustained exposure to blue light can interrupt sleep patterns because it blocks melatonin production. And one of the biggest sources of blue light comes from our tech—specifically computers, tablets, and mobile phones. During the day, this isn't so much of an issue because we need to be alert in the office. At night, however, all that technology comes with a cost. But we also know that spending all day staring at screens can give you eye strain. Gamma Ray's Anti UV Glare glasses are lightweight and tinted to help block blue light and minimize eye strain. As an added bonus, you can also purchase these glasses with magnification to use them as enhanced reading glasses.
##Hemp Oil for Pain & Anxiety Relief
These days, not everyone wants to use prescription or even over the counter medications to ease every ache, pain or stressor. For some people, essential oils or even hemp oil are preferred alternatives. This particular hemp oil is TCH-free in case you're concerned about that. The oil is also rich in omegas to promote heart health, reduce inflammation and reduce blood pressure. Note this is not a CBD product as Amazon does not allow the sale of any products that contain CBD.
##URPOWER Essential Oil Diffuser
There's something about a scent that can transport you to a favored memory or even help you to relax and forget the stress of the day. The URPOWER essential oil diffuser is a quiet and travel-friendly item that helps to infuse the air with the essential oil of your choice. In addition to the calming scent and mist that it creates, this 2-pack of diffusers also comes complete with a 7-color changing LED light. Opt for one static color or cycle between the colors. You can also shift between continuous or intermittent mist modes. The best part is that the entire diffuser automatically shuts off when the reservoir empties. Note that this diffuser does not come with essential oils but is small enough to make it travel-friendly.
##Essential Oil Container Pendant Necklace
Sometimes you need to have your aromatherapy to go. So, if you can't bring a diffuser with you, this essential oil container pendant necklace is the next best thing. This necklace works by filling the reservoir with a few drops of essential oil and then inserting a colorful felt strip to prevent the oil from spilling. The pendant has a decorative cutout which also serves to help release the essential oils. The pendant can hold as much as 0.8 cubic centimeters of oil and can last for three to four days. The best part is that this necklace has a unisex design so that men and women can easily wear it.
##Pure Enrichment PureGlow Crystal 2-in-1 Himalayan Salt Lamp
Depending on who you ask, Himalayan salt has healing properties. In particular, Himalayan salt lamps act like negative ion generators and the salt is credited with everything from improving air quality and boosting moods to unsubstantiated claims like curing cancer. While the evidence is primarily anecdotal, those who believe in the mineral's properties will appreciate the all-in-one nature of Pure Enrichment's PureGlow Himalayan salt lamp. In addition to serving as a Himalayan salt lamp, it also doubles as an essential oil diffuser. The lamp comes with three halogen bulbs that can reach five different levels of brightness to help you set a relaxing mood.
##CRYSTAL DECOR Natural Himalayan Salt Lamp
If you're not in need of multipurpose lamps, then you might prefer the decorative nature of the CRYSTAL DECOR Natural Himalayan Salt Lamp. The lamp features a simple metal cylinder with a cutout design for light to shine through. The hand-mined Himalayan salt crystals that sit on top of the uplit base help to release negative ions for improved air quality. The bulb in this lamp is removable and can be replaced if need be.
##SNOOZ White Noise Sound Machine
Sometimes you need a little something to help clear your mind or drown out the sounds of a noisy neighborhood. This is why people turn to sound machines to create a soothing stream of background noise to help them zone out and fall asleep. The SNOOZ White Noise Sound Machine can help you fall asleep with an adjustable tone that ranges in intensity from a table fan to as strong as the drone of the interior of an airplane cabin. Likewise, you can adjust the volume with 10 settings and even remotely control the device through their downloadable mobile app. The Snooze is also small enough to easily fit in your luggage, making it the perfect travel companion.