5 Streaming Devices to Buy That Aren't Apple TV
5 streaming devices that easily rival Apple TV.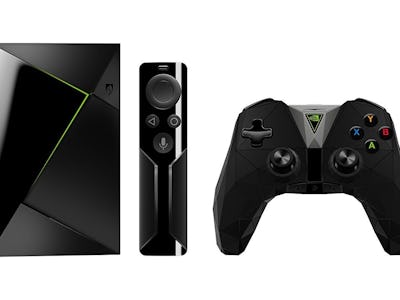 Amazon
While most TVs today come with built-in "smart" software, you're luckily not required to use it if you're willing to purchase a streaming box. These streaming devices connect via HDMI and can smarten up a dumb TV or allow you to use it exclusively instead of what your own Smart TV offers. By and far, the Apple TV is one of the most popular but it's expensive and has its own set of limitations either via hardware or Apple's own policies. Luckily, if you're not completely sold on Apple's TV box, there are some solid alternatives. Here are 5 streaming devices that aren't made by Apple.
Chromecast / Ultra
If all you're looking to do is stream media to your TV and want to keep it a fairly bare bones affair, then the Chromecast is at your service. Google's puck shaped streaming device is easy to setup and basically needs nothing but an HDMI port, internet connection, and a device (smartphone or tablet) to push media from. Many apps today have built-in "cast" icons that allow you to connect it to a Chromecast for a seamless experience.
It gets better, too. If you have a TV that supports HDMI CEC and a smart speaker like the Google Home, you can also control your TV with your voice to some extent. Also, gamers may be more inclined to grab a Chromecast Ultra now with Google's Stadia around the corner.
NVIDIA Shield TV
Google's Android TV started as a laughable and clunky attempt to put the mobile operating system on the big screen and has since turned into one of the best experiences you can get. It's streamlined user interface puts exactly what you want in front of you and the NVIDIA Shield TV builds upon that by giving it solid gaming powers. The brand is synonymous with gaming, so this shouldn't come as a complete surprise. Now combine that with Google Assistant integration and you have something really great.
The only problem with this device is that it's pricey, and if you want to use it to its true potential, you'll also need to factor in the price of the controller. Luckily, you can find it bundled for cheaper than buying it separately, so go ahead and do yourself a favor and do that if you plan on gaming on the Shield TV. Even if you don't plan to, NVIDIA's Android TV box is basically the best you can get for the operating system.
Roku Ultra
I'll get this out of the way up front. I think the user interface for the Roku is the ugliest thing you can find when it comes to Smart TV/box software. Sure, it worked back when it was first created, but in all that time, it seems to be that they never invested in a designer and it could use a severe overhaul.
All that said, I know I'm the odd one out, as Roku is basically a household name whether you own one or not. First to the game and likely the biggest selection of channels than the competition, Roku is doing something right. The Roku Ultra is the finest option the company has to offer and gives you 4K HDR goodness.
Amazon Fire Stick 4K
While the non-4K version of the Google Chromecast is essentially the cheapest way to add some smarts to a TV, the Amazon Fire TV Stick 4K is only $5 more (when it's on sale) and actually does allow for 4K streaming. If you're looking to essentially replace the "smart" software you TV came with, there's there's little contest when it comes to value and payoff between the Fire Stick and the Chromecast.
For such a tiny stick, it can do a lot. Stream 4K content from tons of content providers, with all of the essentials included. Also, because this is an Amazon device, it also has Alexa built right in, allowing you to control your smart home and other nifty features using the remote that the Fire TV Stick comes with.
Amazon Fire Cube
If you're feeling spendy and have yet to invest in a smart speaker, the Amazon Fire Cube may be your best option. It combines all of the features from the Fire TV Stick and basically adds an Amazon Echo into an adorable cube for essentially full voice control over your TV.
The closest option to the Amazon Fire Cube would be the NVIDIA Shield TV, but the Cube is less gaming focused and more approachable to the average consumer. Oh, and can be about $100 cheaper at times when it goes on sale.