5 Real, Grown-Up Shoes That Will Up Your Style Game
There's a time and a place for sneakers, but you're a grown up now.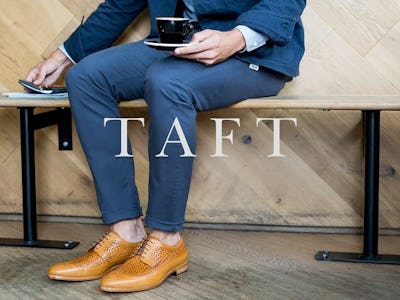 Taft Clothing
Listen, I get it. I prioritize comfort over style every single day, but I also work from home where no one ever sees me. If you're looking to step into adulthood in esteemable ways, a wardrobe is one of the easiest places to start. You know how you feel when you purchase your new favorite shirt. You know the feeling of stepping into a pair of jeans that fits unlike any pair you've had on before and you want to replicate that feeling in every item of clothing you own.
One of the most neglected areas of anyone's wardrobe is shoes. You're looking for comfort, practicality, durability and visibility. How many people do you know that have gone back and purchased the same shoe over and over again as the previous pair wears out? It's so easy to get caught up in your old style habits and not allow your wardrobe to grow up with you.
But here you are. A full grown up. With a day job, a pet, possibly a partner and a whole other host of responsibilites. The same shoes you've been wearing since college don't reflect who you are now. Save your sneakers for the gym, yard work or the next hiking date and try one of these stylish, grown up shoes.
The Handpainted Leather Shoe That Comes In Every Color Imaginable
Why We Picked It: Meant to be both comfortable and stylish, this is Taft Clothing's best seller. They've spared no expense when it comes to tailoring the perfect construction for a thoughtful and sophisicated presentation. Made from Italian wool, Italian full-grain calfskin and leather in-soles, this is as grown up a shoe as it gets. Available in sizes 6 through 5 and in 7 unique colorways if black isn't your thing.
The Timeless Statement Shoe
Why We Picked It: This shoe rests somewhere between grandpa and cowboy—both of which are style aesthetics that have come to the forefront with a vegence this year. If you're not into the all-black or all brown style options, the Beck Shoe boasts amazing vegetable tanned leather handcrafted in Spain and is sure to make a statement with the detailed stitching throughout. Available in sizes 6 through 15.
The Understated Pebbled Leather Shoe
Why We Picked It: Described as being "literally a work of art," this shoe has been handpainted with 4 different coats of paints with masterful attention to detail so that the rich leather finish is what catches your eye. Meant to be worn for any occasion and with any item of clothing—short of your basketball shorts—this full-grain Camello pebbled leather shoe is surely a must-have in any grown up wardrobe. Available in sizes 6 through 15.
The Wool Shoe You Can Wear Year Round
Why We Picked It: Some folks just want a shoe that goes with everything and it's trying to say too much. The classic construction of this Italian wool flannel shoe is the kind of tailoring and understated style usually reserved for dynasties like the Kennedys. Available in a classic grey, but for the more adventurous, you can try the patterned flannel options of the London, the Nightfall, and the ultra bold Stripes.
The Intricate Leather Shoe For The Daring Man