Patti Smith Sings 'Aqua Teen Hunger Force' Aria
"I never dreamed / I'd be an Aqua Teen"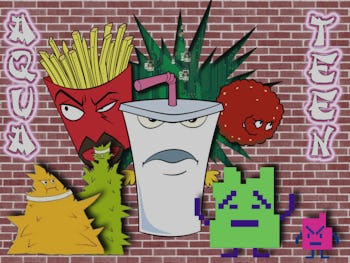 Vanesser III/Flickr
Patti Smith loves Aqua Teen Hunger Force. Really. After she provided DVD commentary for 2007's Aqua Teen Hunger Force Colon Movie Film for Theaters, she told Montreal's Gazette that she loved watching cartoons with her son, who recommended ATHF to her. She fell in love immediately. Now, Smith has written a song called "Aqua Teen Dream" for the series finale.
Smith's somber farewell to ATHF isn't the show's first musical endeavor. In 2005, MF DOOM and Danger Mouse collaborated as DANGERDOOM for The Mouse and the Mask, essentially a concept album about Adult Swim that centered around ATHF skits. (Master Shake really wanted to be on the album.)
And for the aforementioned Movie Film for Theaters, Mastodon interrupted the intro song for their own deranged version about theater etiquette, "Cut You Up With a Linoleum Knife."
The cartoon has also featured a bespoke theme sequence, courtesy of Flying Lotus and Thundercat.
After 11 seasons and a proud musical history, Aqua Teen Hunger Force closes out this Sunday, August 23 at midnight with "The Last One Forever and Ever (For Real This Time) (We … Mean It)."
Patti Smith, play us out:
I never dreamed / I'd be an Aqua Teen / Thirteen seasons / What did it mean? / A Master Shake / Meatwad, a floating head / And now you're dead / And it's the end / Of Aqua Teen Hunger Force / It's the end / Of Aqua Teen Hunger Force