For All Your Spring and Summer Travels, Try One of These Must-Have Bags
From Weekend Trip to Long Vacation, We've Got You Covered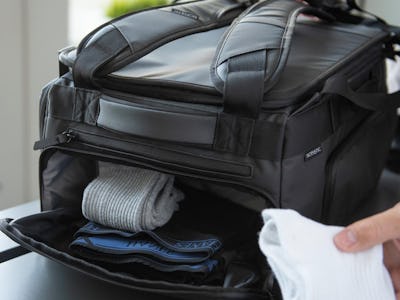 Nomatic
When the weather warms, you're on the move. Whether it's a quick trip to the beach, a weekend at a wedding, or a long-planned vacation, you want bags that will make it easy to pack and carry everything you need.
For The Super Organized
Why We Chose It The Nomatic 30-liter Travel Bag has compartments for everything – from socks and undies to a water bottle. It even has a ventilated shoe compartment. With handles on three sides, you've got carrying options, and you can get two to four days' worth of stuff in it handily.
Leather-Trimmed Wheelie
Why We Chose It Zip pockets in both the front and the back provide easy access to tickets and other papers you need while traveling, and this bag meets carry-on requirements for most of the major airlines.
Backpack or Briefcase, Your Choice
Why We Chose It The Evergoods CTB40 is chock full of organizing features including three different sized pockets for large items, plus an inside pocket for small items and a fully padded laptop compartment. Available in black or gray.
Stash It Under Your Seat
Why We Chose It Tired of fighting for space in the overhead bin? With this AmazonBasics luggage, you can easily fit your bag beneath the seat in front of you. The telescoping handle locks in place, and the polyester lining and exterior are easy-clean.
Expandable Space
Why We Chose It The [Travelpro] ](https://www.amazon.com/Travelpro-Maxlite-Expandable-Spinner-Black/dp/B016IO9JN0/ref=lp_15743251_1_7?s=apparel&ie=UTF8&qid=1555098440&sr=1-7&nodeID=15743251&psd=1) features a telescoping handle with stops at two different lengths, 38 inches and 42.5 inches, so it's comfortable no matter how tall you are. Wheels have protective housing, and several zippered pockets give you access to what you need. It's available in black or purple – and believe us, you'll spot that purple on the baggage carousel immediately.
For Short Getaways
Why We Chose It Nomatic's Travel Pack looks a lot like a backpack, but it comes with handy features designed especially for travelers, including mesh dividers, a shoe compartment, and an RFID-safe pocket for your passport. It's large enough for short trips of one to three days.