Best Wireless Charger for a Quick Charge
Quick Answer: RAVPower Fast Charge But You Want To Know Why.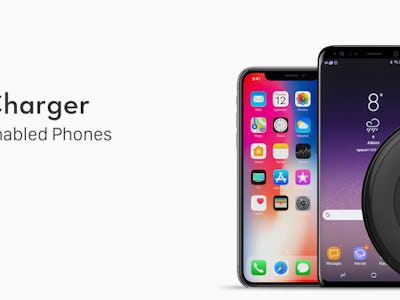 RAVPower
Everything about our future is wireless. But it's not enough to simply be 'wireless'. We need things fast. We need it now And that doesn't stop because our mobile devices have run out of battery power. That would cancel out the whole point of being wireless. Which leads to today's important question: what is the best wireless charger for a quick charge?
The short answer: RAVPower Fast Charge Wireless Charging Pad.
Look, to be honest: there are a quite a few 'fast charge wireless charging pads' on the market. The question always comes down to what you are looking for and how you prioritise certain features. The good news is the RAVPower Fast Charge Wireless Charging Pad outperforms the others.
Don't believe me? Read on.
Different Volts for Different Folks
Not all smartphones are created equal. Now, we're not saying this to start a smartphone war between our lovely readers. We are simply pointing out you need to be aware of the output from your wireless chargers, and especially from any fast chargers.
Most fast chargers will aim at the lowest rate of 7.5 Watts of power. That's the rate to charge your iPhone and it is low enough to not hurt the Samsung at 10 Watts.
Better yet, the RAVPower Fast Charge Wireless Charger comes with a Quick Charge 3.0 capable outlet adapter allowing you to fast charge the Samsung Galaxy compatible phones at the higher rate of 10 Watts of Power. Score one for RAVPower.
Fast Wireless Charging is Cool
The next big thing you need to consider is temperature. The very nature of wireless charging is magnetic induction. Magnetic fields can heat up metals in the same way induction cookers heat up a pan. Fortunate for us, temperature control is a big feature of wireless chargers and especially for the RAVPower Fast Charge Wireless. It's not going to melt the non-slip coating and it's definitely not going to damage your battery or phone. Just don't go placing anything metal on it, okay?
For added peace of mind, the fail-safe circuitry knows all of this and will cut out if there was ever a risk of it. Considering the speed in which it charges up your starved phone, this is amazing enough to push it ahead of the competition.
But Does It Look Pretty?
It's not the prettiest on the market but it does look pretty sleek. You can buy it in black, white, or red/black. The lighting on the device is subtle and it doesn't have that horrible plastic feel to it. And hey—if you really don't like the look of it, remember it is faster than the others. So you'll be looking at it for less time than other brands.
Anything Else We Need to Know
As with all wireless chargers, the best benefits come from your attention to detail. The RAVPower Fast Charge Wireless Charger is pretty good at picking up on your device but it will work better if you make sure you place it in the middle of the device and not hanging off the end.
That's why the RAVPower works so well. It reduces all the risks of other wireless chargers and does its job.
It charges. It charges fast. And it does it all with the least amount of interference from you.