Get 20% Off This Top Shelf Leather Weekender
Antiqued Buffalo Vegetable Top-Grain Leather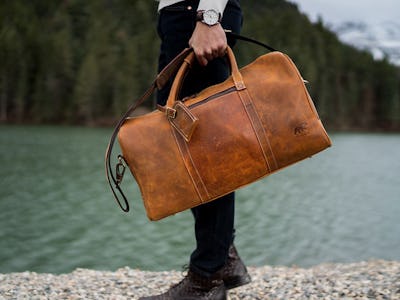 StackCommerce
Discounts you can find at The Inverse Shop are especially awesome when applied to super high-quality pieces you can almost never get on sale. That's certainly the case with this Kodiak Leather Weekender Duffel Bag in Antique Brown. It's just plain nice, with genuine Buffalo leather construction done in an understated yet beautifully rustic finish. And at 30L, it's the perfect size for day and weekend trips when you want a bit of style instead of your standard business bag. Check out the deal here—-20% off the $340 MSRP and only $269 out the door.
Including a built-in handle and a comfortable shoulder strap, this bag is ideal for short trips. Scratches will only make the Kodiak look more distinguished, so it's also suitable for outdoor adventures and recreation. A host of interior and exterior pockets will keep all of your gear and valuables secure, including special compartments for your phone, cards, and pens. The top-grain vegetable tanned leather will bring a smile to your face whenever you look at it and last a lifetime to boot.
$269 after 20% off the $340 MSRP is a steal for such a practical, beautiful bag. Head over to the Inverse Shop to see the deal and explore other size options—-including a 60L Weekender for $399 after the same discount.