5 Best Tech Items to Get You Ready for Summer
These tech items will make sure you're ready for the hot days ahead.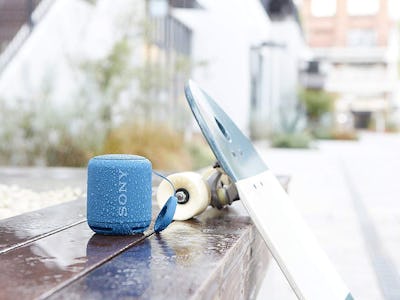 Amazon
Ah, Summer time. The time of tailgating, BBQ, and beaches. While we're a couple of months away from the season everyones loves (except the vampire-like, indoor kids like myself), preparing for it is half the fun. Check out some must-have gadgets to get you ready for Summer.
First things first: P90X or the gym
Want to impress the opposite (or same) sex with your beach body? Well, look at it now and ask yourself if it's ready to be shown off to anyone. If you're really ready to get ready for the summer, hit the gym or grab some fitness BluRays by whatever motivational trainer that you can handle yelling at you and get to work.
Water Resistant Bluetooth Speaker
When you're laying around at the beach with a handful of friends, you'll need some tunes to get that summer vibe going. Of course, seemingly every company in the world has a Bluetooth Speaker these days so your options are essentially endless. That said, if you're looking for a quality speaker that can survive a splash or five, you can find that in Sony's well-rounded XB10.
The Sony XB10 is on the lower-end of it's portable Bluetooth speaker family, but coming in at under $40, it's a good place to start.
Sony XB10 Portable Wireless Speaker with Bluetooth
Portable Charger
If you're getting ready to have fun in the sun and all that jazz, you're going to need plenty of power to keep your electronics juiced up while you're out. Anker's PowerCore 26800 is your answer. While it is on the high-end of the spectrum, it's simply beats the hell out of the competition. It not only does it's job and does it well, but it also looks good doing it. Somehow Anker made a power bank look sort of sexy. In reality it's just a well built, curved metal slab, but a good looking one. So much so that it's almost unfortunate that all it does is charge your electronics.
Sports Headphones
Whether you're looking to go for a jog or just tune out while your sunbathing with your shades on, there's no better way to to isolate than a good pair of headphones. The JayBird X4 headphones are lightweight, water resistance, and give you 8 hours of playback on a single charge. That's a lot of sunbathing.
Wine/ Beverage Chiller
One thing you're likely always going to need when you're out on a hot summer day? Ice and cold drinks. While you can try your luck with a portable ice maker in the sweltering heat or you can try the seemingly more reliable but equally extravagant Cooper Cooler Tailgater Rapid Beverage Chiller. It comes with an interchangeable 120V household plug and a 12V car lighter plug. But let's face it, if you were classy enough to bring a wine chiller to the beach or wherever you're going for summer escapades, you may have also brought a portable generator. Just saying.
The chiller can chill cans of soda or beer in one minute and a bottle of wine in 6, which is impressive.
Action Camera
If you plan on going on adventures like rock climbing, white water rafting, don't chance your $1000+ smartphone to do the work when it can just as easily get smashed on a rock or dropped in water. (It doesn't matter what the IP rating of your smartphone is if it's at the bottom of a river and you can't find it.) If you're going to do some intense adventures, record it with a camera built to take on the challenge, which is exactly what the GoPro was built for. It shoots fantastic video, it's waterproof, ruggedized, and not $1000.