Fake Y Combinator Acceptance Letters Crush Startup Dreams
Just another sadist with an email account.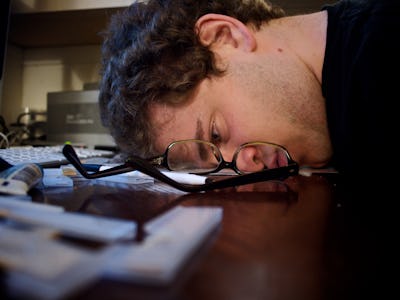 Flickr.com/Michael Shane
Update: Kurt Braget tells Inverse that the prankster came forward anonymously to Y Combinator with the list of email addresses he trolled. Y Combinator has now confirmed that report.
When the prestigious Silicon Valley incubator Y Combinator launched a fellowship program in July, putting $12,000 grants up for grabs, founders were understandably eager to get involved. Some 6,500 applicants reached out to the networking powerhouse and, this week, they heard back. The problem being that they heard back from noreply@ycfeilowship.com, an email account apparently created for the sole purpose of distributing fake acceptance letters.
Y Combinator told Re/Code that the venture company doesn't know who is behind the troll, though it's on the case to find the culprit:
In a Medium post, fellowship hopeful and faux-letter recipient Kurt Braget writes that YC assured him the company's data wasn't hacked but was likely scraped. Braget thinks this was "fucked up" but funny, though maybe not as funny as a similar fake rejection letter recently sent from a school just outside of Boston.
Why would a troll want to mess with a startup program? As yet, no one has claimed ycfeilowship.com or declared if the letters were created out of spite or for the lulz. As far as psychological motivation goes, Canadian researchers wrote in Personality and Individual Differences in 2014 that the "Dark Tetrad of personality" — and most specifically, sadism — plays a big troll role in the 1,215 people surveyed:
trolling correlated positively with sadism, psychopathy, and Machiavellianism, using both enjoyment ratings and identity scores. Of all personality measures, sadism showed the most robust associations with trolling and, importantly, the relationship was specific to trolling behavior.
In other words, people who want to mock or undermine are out there and Y Combinator's success has put the incubator firmly in their sites. Success has bred more success at YC, but it will also breed jealousy and psychological weirdness. The problem with being prominent is that you become a prominent target.
Update: Kurt Braget tells Inverse that the perpetrator came forward anonymously. "All of these people who got fake emails probably had their whole world turned upside down. I know mine was," he says. "It wasn't kind, but still I don't feel any hate towards the person who did it. It seems obvious to me that the person is just looking to be accepted or maybe they were just angry at YC and the process for some reason." YC fellowship manager Matt Krisiloff confirmed with Inverse in an email that, "the person came forward and apologized and gave us the list. It was not the result of hacking, and only a few people were affected."