6 Japanese Kit Kat Flavors, Including Sake. YES, SAKE
There are hundreds of flavors of Kit Kat in Japan. Here are a few you can buy without going there.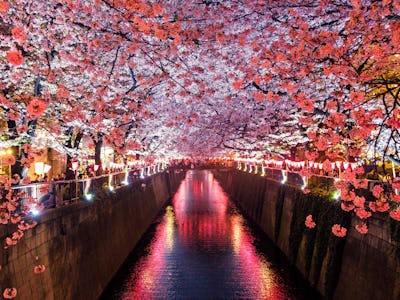 Unsplash / Sora Sagano
Go to Japan and you'll find hundreds of ever-changing flavors of Kit Kat. We aren't talking dark chocolate and milk chocolate here. Kit Kat has been taken over by the Japanese tradition of omiyage, (collecting souvenirs), which includes an affection for edible souvenirs. Kit Kat produces flavors for the seasons and regions of Japan so that if you travel, you can bring a rare gift back for friends and coworkers. These flavors are short lived. So if you see one you like, buy it. It might never happen again. Most of these flavors are never exported.
But here are some astonishing Kit Kat flavors that you can buy online. We can't wait to taste them.
This one is special. It is based on a rice-cake confection special to Hiroshima, Momiji Manju. Nestle created it in a partnership with the famous Takatsudo bakery that created these maple-leaf-shaped, red-bean filled confections. The flavors of the Momiji Manju have been melded into the cookie and filling of this Kit Kat. Then it is wrapped in white chocolate with a maple-leaf stamp.
Cherry blossom and sake? It's almost like taking a trip to Okinawa in the spring, right? Also? These are a pretty pink-tinted white chocolate. Bite into them, though, and you will feel like you're drinking sake. The kids won't like it. So buy it for adults.
Wasabi? In a cookie? This one has rarely been available outside of Japan, and that kind of makes sense. But if you are Wasabi curious, now is your chance.
Yum! Azuki! This delicious sandwich made from bread and a sweet mung bean filling has been injected into a Kit Kat. It looks like a traditional chocolate Kit Kat on the outside, but is loaded with traditional taste sensations on the inside.
In Okinawa, there grows a sweet potato that is not only beautiful but highly nutritious. The beni imo. Everywhere in Okinawa, people turn this sweet vegetable into sweets, ice cream, and other yummies. This flavor of Kit Kat manages to capture this regional delicacy into a cookie that, unlike the sweet potato, can travel to you.
Looking for a Japanese Kit Kat that's less challenging? Green tea! The chocolate on this one is the pale green of green tea and the flavor is of sweet matcha tea.