New Character Posters Introduce Tarantino's 'Hateful Eight'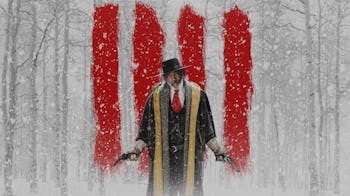 www.facebook.com/thehatefuleightmovie
A week ago we brought you the first trailer for Quentin Tarantino's new 70mm western extravaganza, The Hateful Eight, and it looks like the marketing machine continues to roll on before the movie bows in theaters in December. Next up we get to meet the titular characters who will all convene in a Wyoming cabin in the middle of a debilitating snowstorm and face off in the movie.
Here they are:
Kurt Russell as John Ruth, a.k.a. "The Hangman," and Jennifer Jason Leigh as Daisy Domergue
Demian Bichir as Bob, a.k.a "The Mexican"
Bruce Dern as General Sandy Smithers, a.k.a. "The Confederate
Tim Roth as Oswaldo Mobray, a.k.a. "The Little Man"
Walton Goggins as Chris Mannix, a.k.a. "The Sheriff"
Samuel L. Jackson as Major Marquis Warren, a.k.a. "The Bounty Hunter"
Michael Madsen as Joe Gaga, a.k.a. "The Cow Puncher"
From the premise, the names, and the nicknames, this looks to be a serious western throwback from Tarantino. It should also be said the majority of the cast are Tarantino veterans, with all but Leigh and Bichir previously appearing in one of Tarantino's films. It's a good sign, since you know he wouldn't get just anybody to deliver his dialogue.
The Hateful Eight will be released in theaters with limited 70mm engagements on Christmas Day.