Amazing Multi-Tools You Need in Your Life
The most practical and useful multi-tools on the market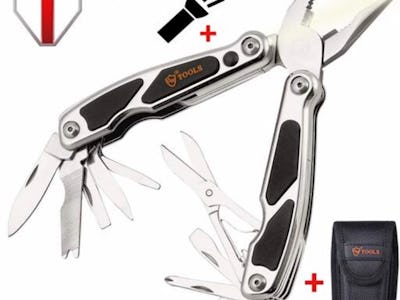 Amazon
Multi-tools are cool, and you need to have at least one in order to be a functioning member of society. OK, that's a rule we just made up, but we're going to stand by it forever. Take a look at our favorite tools to honestly add a ton of practical help to your life.
This multitool is equipped with a flashlight, swiss army knife, scissors, pliers and screwdriver. It comes with a black carrying case. The reviews say that it holds up great in salt water so take it for your ocean exploring. The reviews also say it's a substantial and good quality for the price. This is what we usually picture in the multitool universe. We like a tool that can dig dirt from under our nails and then repair the car.
2. Kelvin 36: The Urban Super Tool
The Kelvin 36 is the real deal when it comes to a multi-tool. It functions as a box cutter, corkscrew, bottle opener, measuring tape, level, screwdriver, hammer surface, utility knife, and LED flashlight. The screwdriver can lock into an angle of 90 or 180 degrees allowing a couple variations for getting in a tight space. This also comes with 26 CR-V bits to fit various screwheads. This tool is all arranged to be ergonomically with a rubberized grip.
3. Cyclist Card Everyday Carry Multi-Tool
This card is meant to be carried in your wallet. This is called a cyclist card because it has the things you need to deal with cycling emergencies. There is a tire pry, hex wrenches, truing fork, and bottle opener. With over 43 uses for this item, it's a necessity when you are heading out to the trails. You can thank us later.
4. EverRatchet Ratcheting Keychain Multi-Tool
We could not be happier with this ratcheting keychain tool. This thing has 7 wrenches, a bottle opener, flint to start a fire, and it has 20 lb's of torque to get the job done. This tool is great to have on you at all times, but especially when you are headed out hiking. With the ability to have this hook on your keychain, you can it everywhere and feel a sense of security that you are ready for whatever comes next. Especially if it's a bottle. Anyone else noticing that every multi-tool seems to have a bottle opener? Just us? That's cool.
Have you ever seen something so beautifully functional? Do you know what you are look at? It's a Stainless Steel Tread Multifunctional Bracelet screwdriver tool. This has 29 tools. It's like wearing a box of wrenches. It can be used as a glass breaker, a sim card pick, cutting hook, a socket drive adapter, and of course a bottle opener. This is also fully adjustable, so get your significant other a matching one while you're at it. We cannot put into words the excitement we feel for this.