7 Awesome Camping Items That Will Up Your Wilderness Game
No Need To Rough It With This Gear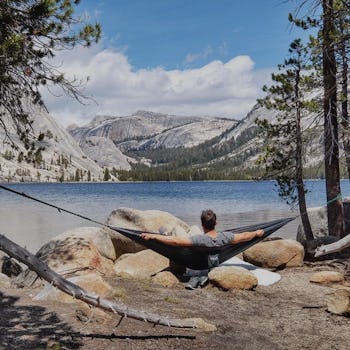 Huckberry
Whether your idea of camping in the wilderness involves backpacking in the High Country or a state park with hot showers, having the right gear can make the experience simply more enjoyable.
Lantern And Flashlight In One
Why we chose it. Sometimes you want to light up the whole campsite, other times you just need light to search for something. With the Voyager, you have both functions in one easy-to-pack option. The LED light is even dimmable in lantern mode, and the batteries will last for up to 100 hours.
The Perfect Pillow
Why we chose it. If you're sleeping on the ground, at least your head deserves the best. With the integrated stuff sack, you can squash it down to the size of the grapefruit. It makes a great airplane pillow, too.
11 Tools In One
Why we chose it. If you're ever going to need a Swiss knife, it's when you're camping. The stainless steel and lightweight, flat design make this one the perfect tool to have in your pocket, ready for whatever adventure brings.
Ready To Relax
Why we chose it. It's the perfect place to chill after a hike, swim, or chopping wood. Set-up is quick and easy with the included SlapStrap suspension system, yet it only weighs a pound and packs to the size of a softball in its own stuff sack.
Grill For A Group
Why we chose it. Compact design makes it endlessly portable. It has a removable, non-stick grill grate and drip tray that's easy to wash at the campsite—or you can bring it home and throw it in the dishwasher.
Car Camper Or Storage
Why we chose it. Take car camping to another level with the Hybox. The interior includes quilted insulation to keep out noise and cold, and the 3-inch foam mattress assures a comfortable resting spot. The hardshell exterior offers protection from rain and wildlife.
Powering Your Fun
Why we chose it. Even when you're in the wilderness, you want to use your Go-Pro, smartphone, or laptop. You can power devices via USB ports or DC outlets on this panel, which folds to less than 18 inches square and weighs a little over 4 lbs.