Melisandre May Be the Most Important Character in 'Game of Thrones' Season 8
by Allie Gemmill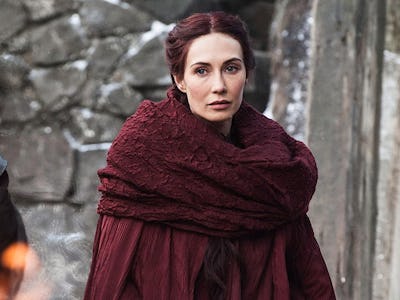 HBO.
There are still many players in Game of Thrones who demand our attention as we prepare for the Season 8 premiere. While it's easy to get caught up in focusing on the big players like Daenerys Targaryen, Jon Snow, and Cersei Lannister, it's also worth remembering there's at least a few key characters working behind the scenes that still have the power to affect the outcome of this epic narrative before the series ends in May.
One such player is Melisandre, who went off the grid early in Season 7 following a cryptic conversation with Varys. Since her exit in Episode 3, "The Queen's Justice," we haven't heard much from the Red Priestess, which begs the question: Where is Melisandre when Game of Thrones Season 8 begins? As it turns out, that conversation with Varys in Season 7 holds more clues about her return and how she'll affect the story in Season 8 than we initially thought.
To quickly catch up: When Varys meets Melisandre on the cliffs at Dragonstone in "The Queen's Justice," we learned that Melisandre would be leaving Westeros after bringing Daenerys and Jon, ice and fire respectively, together, heading back to her home nation of Essos and, more specifically, the southern city of Volantis. While it's unclear what business she has in Volantis, she did tell Varys that is was her destiny to "die in this strange land," referring to Westeros, meaning she will inevitably return some time in Season 8.
Even though Melisandre doesn't tell Varys outright what she's planning to do while in Volantis, there's a chance she could be conducting business that would only serve to help Daenerys and Jon in their efforts to conquer the Night King and his White Walker army, as well as to defeat Cersei and reclaim the Iron Throne. Melisandre's hints at not parting on good terms with Jon or Davos at Winterfell (they banished her back in Season 6) could imply she is still trying to help Jon fulfill his destiny and prove she is an ally. If this is the case, she could be going to Volantis to either find more troops to replenish Daenerys' decimated army following two crippling battles against the Lannisters in Season 7. Similarly, she could be raising funds or finding new weaponry for Daenerys and Jon to use to achieve their goals.
Even if Melisandre isn't in Volantis to do business for something related to Daenerys and Jon, we know that her return to Westeros will be incredibly important to how the series ends. Not only was she able to bring these two characters together, ensuring their destinies are tied up in each other, but she has the magic and vision to give them a home court advantage in defeating enemies both dead and living.
Whether we realize it or not, Melisandre has been an integral part of Game of Thrones since the series began, helping to move characters towards one another in ways that help to fulfill prophecies and visions frequently only she has been privy to. It will be interesting to see when Melisandre appears in Season 8, and it will be even more interesting to see just how much she affects this season's story when she does.
Game of Thrones returns to HBO on April 14.