The First Nationwide Age ID Checker for Online Porn Passed Its First Test 
Internet freedom advocates are warning about the upcoming British law.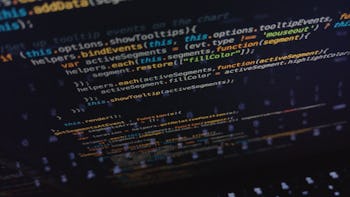 Unsplash / Irvan Smith
The age of easily surmountable barriers to online pornography may be drawing to a close: An age verification system for porn watchers held its largest test last week, ahead of the planned implementation of mandatory checks in the United Kingdom. Its creators have declared the test a success, despite long standing arguments from campaigners that the measures will be ineffective and potentially harmful.
The test was a collaboration between AgeChecked, a service that verifies a user's age, and British television network Channel 4, who tapped the service check the ages of visitors to a porn website that was set up as part of a documentary. The three-part series Mums Make Porn followed the story of five mothers looking to make a more ethical form of porn. The resultant film, I Want Fourplay was created in collaboration with Erika Lust, an award-winning adult filmmaker. After the third part aired on Wednesday, the XXX-companion video went live on a website for curious viewers to watch.
AgeChecked claims the documentary had over 850,000 viewers, but declined to say how many people actually used its service to access the short adult film. Still, its creators are declaring the trial a success.
"The results of this first mainstream test of our software were hugely encouraging," Alastair Graham, CEO of AgeChecked, said in a statement.
Not everyone was convinced:
The verification system is part of the British government's plan to implement mandatory age checks on all websites that publish adult content. The Digital Economy Act 2017 was expected to come into force in April 2018, but has failed to materialize. The British Board of Film Classification, which will manage this system as well as continuing to classify movies, released more detailed guidelines about the implementation in October 2018. Despite these moves, the check system missed its reported deadline of April 1, 2019.
"There have been a number of negative stories lately about the so-called 'porn ban' in the U.K.," Rudd Apsey, a spokesman for the Age Verification Providers Association, said in a statement. "This test demonstrates that the age verification measures required under the Digital Economy Act can be successfully applied to adult websites without issue — verification of adults can be quick and anonymous."
However, campaigners warn that the block would be essentially useless as teenagers would find a way to circumvent the security measures. Jim Killock, executive director of the Open Rights Group, dismissed the policy to The Verge as "completely full of holes," adding that "if teenagers in particular have any incentive to get around these controls, they will."
This attitude is shared by the British public. In a YouGov poll last month, just 34 percent thought the system would actually prevent under 18s from accessing porn. Even among supporters of the policy, only 46 percent thought it would be effective.
Campaigners also warn that a giant database of verified porn viewers could pose a major security risk, drawing comparisons to 2015 Ashley Madison hack only much, much worse. Sexual liberties campaigner Pandora Blake has warned that this information could go as far as tracking a user's preferences, similar to how Facebook and other sites track their logged-in users.
MindGeek, the owner of PornHub and other sites which is building its own AgeID system, told Inverse in May 2017 that its system would only check if a user was verified and not track their browsing habits.
"AgeID cannot see, let alone store any data used during the age verification process," a spokesperson told Inverse. "AgeID's only concern is whether a visitor is age verified."
AgeID, which claims there's a potential market of up to 25 million Brits — half of all adults — for its service, plans to ask users to upload a passport or driver's license to a third party checker. Users can also visit a local store to purchase a £4.99 ($6.57) "porn pass" for each device.
In the case of AgeChecked, the service accepted a credit card, driver's license or phone number for age checking, the latter of which was by far the most popular. Users then received a username and password, while the only information the website received was a "pass" or "fail" from the age service.
"Customers are willing to participate in the process when they know that they are being verified by a secure provider, with whom their identity is fully protected," Graham said.
It's unclear when the checks will come in, whether it will be effective, and whether it will lead to a potential mass breach of online privacy. The team supporting this week's test, though, are claiming a success.
"It is worth remembering that the goal of this legislation is to protect young kids from stumbling across adult content," Apsey said. "The U.K. is leading the world in the introduction of online child protection measures."
Another area that's still unclear is whether the checks will prove popular — March's YouGov poll found 76 percent of Brits had never even heard of it.