'Pet Sematary' Director Says "Dogs Have Had the Spotlight for Too Long!"
The Stephen King remake continues 2019's cat Renaissance.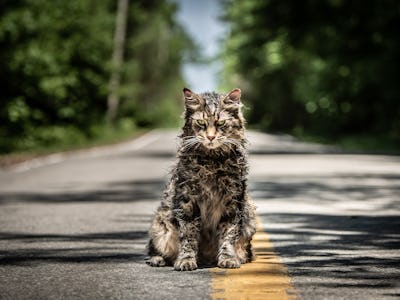 Paramount Pictures
The newest Pet Sematary adaptation furthers two growing trends in 2019: There's what co-directors Kevin Kölsch and Dennis Widmyer accurately call "the Stephen King Renaissance" that began with 2017's It and continued through Hulu's Castle Rock and an upcoming Dark Tower series. But there's also the growing spotlight in entertainment for feline actors of all breeds.
The film's directors tell Inverse that they infused their love of cats into the production, and this guided the casting decisions they made while searching for the perfect Pet Sematary star that could play both a sweet living kitty and the mangy undead monster it becomes when brought back to life by some demonic dirt.
Kölsch and Widmyer say they're proud that their work furthers the growing trend giving cats and they happily shared the spotlight with one of the four cats that played Winston "Church" Churchill in the movie during a preview event ahead of the film's release.
"Dogs have had the spotlight for too long!" Widmyer says.
But in 2019, that's no longer the case.
It feels like an otherworldly coincidence that Pet Sematary releases the same week as Chilling Adventures of Sabrina Season 2 on Netflix, a series that features a beloved black cat named Salem as a central character. There was also obviously Captain Marvel in March, in which Goose the ginger cat plays a crucial role (she's actually an alien called a Flerken).
Pet Sematary's directors are aware of the trend, attributing it to something almost supernatural in the entertainment industry.
"We were talking with our friend about this just last night and saying, 'Don't you think that maybe there is something out there in the consciousness that brings these ideas forward at the same time?'" Kölsch says of these types of coincidences. Each of these three projects had wildly different development schedules — and yet all three came out within a month of each other. It feels like a collective consciousness at work.
Regardless, it's a great time to be a cat in Hollywood. These days, they even get invited to red carpet events.
Kölsch and Widmyer confirm that they're both what we might as well call "cat people," which influenced how eager they were to take the project. Widmyer has three cats and Kölsch has two.
"If you look at our torn-up couches and rugs in our apartments, you'll know that most people just can't train cats," Widmyer says. Yet that's exactly what they needed for this project.
The directors met with various animal trainers and eventually recruited Melissa Millett, the owner of a dog training school in London, Ontario. She also specializes in cat training, making her a perfect fit.
"The only good working cat is a happy cat," Millett told Canada's National Post. (I personally saw Millet feed Tonic the cat at least a dozen tiny treats so he'd pose for cast photos at a press event in early April.)
Kölsch and Widmyer went into the project with a very specific vision for what their version of Church the cat would look like, and meeting those requirements was no easy feat.
"We wanted to base the cat on the original hardcover book," Widmyer said, referring to the 1983 first edition cover illustration by Linda Fennimore that features what looks like a screaming Maine Coon cat (fitting, considering King's obsession with the state of Maine.) "That was a very specific cat to cast because it's very specific-looking, long-haired cat with three or four colors." (The 1989 film version featured a grey British Shorthair instead.)
"They found all these cats — they're all rescues — and they trained them in under two months," Widmyer explained. The production's animal coordinator Kirk Jarrett worked with Millett to find shelter cats that at least looked the part and then trained them.
"Every cat that they brought in had a different talent," Widmyer said. "There's the cat that would hiss, the cat that would growl, the cat that would just stare." Five cats were initially cast, but one had to eventually be cut. Of the four that worked on the final cut of the film, two did the lion's share of the work: Leo and Tonic. Leo does most of the staring, and Tonic handles all of the publicity.
At the Los Angeles premiere for Pet Sematary, Widmyer referred to the five cats as a "pack of divas," adding, "The cat would get on set and have to get acclimated, so all the actors would have to shut up and just kind of let the cat sniff everything for like ten minutes. So, we just sat there, and watched the cat."
Millett confessed to the National Post that the cats even shared an onset "catio" where they could play between takes. One particularly grumpy cat had to get its own RV because it didn't get along with the others. (We're guessing that's the cat that's good at growling and hissing.)
After production wrapped, animal coordinator Kirk Jarrett kept two of the cats, one being Leo. Millet herself kept Tonic, and the two of them do press events with the rest of the cast.
"I secretly think they are smarter than dogs," Millet says. "That's why you can't train them. It certainly is very hard, but a lot of fun once they get rolling."
If Tonic, a total novice actor, is any indication, then maybe she's right?
Pet Sematary is out now.