Xbox Live Gold: Battlefront 2 Has Officially Made It Worth the Subscription
Get a free dose of vintage Star Wars action.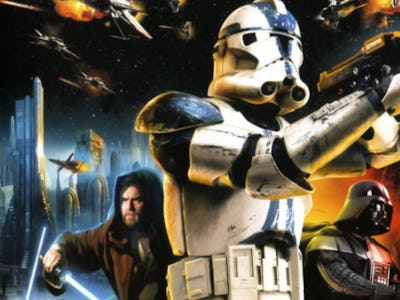 Star Wars: Battlefront II
If you've ever even considered gaming online with your Xbox One, an Xbox Live Gold subscription is obligatory. But if you've been on the fence about the $60 annual subscription fee for Microsoft's multiplayer service, there's never been a better time to level up than now.
Xbox Live Gold subscribers can now access a bundle that includes between two and five free games every month. On Monday, Microsoft announced the roster of games for April, which included the classic 2005 Xbox title, Star Wars: Battlefront II (not to be confused with the colon-less Star Wars Battlefront II).
The beloved first- and third-person shooter is one of the five games that will be available free-to-play on Xbox Live Gold this month. The full the list includes:
Plants vs. Zombies: Garden Warfare 2 (Xbox One) - Available: March 16 - April 15
Star Wars: Battlefront II (Xbox One, Xbox 360) - Available: April 1 - 15
The Technomancer (Xbox One) - Available: April 1 - 30
Ghost Recon: Advanced Warfighter 2 (Xbox One, Xbox 360) - Available: April 16 - 31
Outcast: Second Contact (Xbox One) - Available: April 16 - May 15
Star Wars: Battlefront II is the the oldest title out of the bunch. It was released for the original Xbox and then added to the Backwards Compatibility List for the Xbox 360 in 2006. As of April 2018, it also became backwards compatible on the Xbox One with enhanced graphics for the Xbox One X, a combination that allows it to hold up well for many fans despite its age.
"I went back to it recently expecting it to not be as much fun as I remember after years of not playing it," said Redditor u/ZurichianAnimations. "But it absolutely is as much fun as I remember."
The game had such staying power that its multiplayer servers were maintained by GameSpy Technology nine years after the game's release. The company eventually scheduled a cross-platform shutdown on May 31, 2014. But it staged a glorious comeback in 2017 when Steam began selling it for $10 and its Windows online servers were brought back online.
For today's standards, the game isn't anything special. The graphics are boxy and characters' movement is stiff and nowhere near as dynamic as what you see in the 2015 and 2017 reboots of the franchise. But it's hard to think of many other titles besides Halo that have maintained that kind of cross-generational popularity.
It put wide-eyed Star Wars fans into a number of different angles of perspective in both the Clone Wars and the Galactic Civil War, two of the most iconic campaigns in the Star Wars universe. Instead of seeing the saga play out through the eyes of the protagonists and antagonists of the films, players were placed in the shoes of the Clone Troopers that were mostly side characters for most of the movies.
"I still play the original Battlefront 2 from time to time and I truly still believe it is a masterpiece of a game," said Redditor u/jakesnyder.
So if you're ready for a nostalgia trip or a dose of vintage Star Wars action, now is the time snag a Xbox Live Gold subscription.