Vincero Watches Prove You Don't Need Deep Pockets for a Luxury Timepiece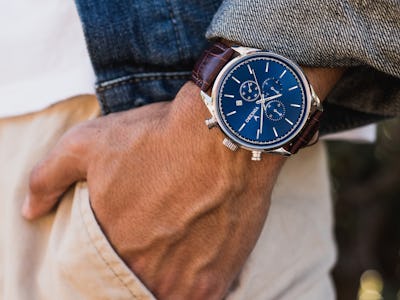 Vincero
For many of us, scrolling through Instagram, Snapchat and other social media platforms can be a gratifying way to spend an hour — or 12. But if there's one downside to the pervasiveness of filters, airbrushing and background blur, it's this: An enormous number of ordinary products are being passed off as extraordinary.
That's why in a world where it's so difficult to distinguish between genuine and fake, Vincero Watches is so unusual: These handcrafted, luxury watches not only look beautiful (think bold, yet classic designs and marble accents on the dial), but they're also, in short, the real deal.
In fact, there's an insanely thorough step-by-step process that goes into crafting each and every Vincero watch in the collection.
Getting 15% off using the code INVERSE. Learn more.
Crowdsourced design. A watch should be a reflection of your personal style and individuality, right? It should tell the world who you are — not just the time. At least, that's what Vincero's team believes, which is why the company takes consumers' opinions very seriously, even seeking out feedback and incorporating it into their designs and product improvements.
Scrupulous sourcing. Vincero sources all of its own material — top grain leather and marble from Italy; sapphire glass and surgical grade stainless steel; and precise, high-quality watch movements from Japan — from trusted factories it has developed strong, long-term relationships with over the last several years. This ensures consistent, excellent quality; nothing is ever substandard.
Details with meaning. Vincero has an ambitious mission — to craft products that inspire consumers to live their legacy. The distinct features on their watches and impressive attention to detail help to tell that story. Case-back designs have the same ancient Roman marble that was used to construct some of history's most powerful empires. And the engraving "Veni, Vidi, Vici," (Latin for "I came. I saw. I conquered.") is all the swagger you need to feel confident as you move through your day.
Meticulous inspection. Vincero manufactures its watches in small batches, which allows the team to monitor every stage of production. And get this: One hundred percent of Vincero's products are hand-checked to ensure the company's high standards of quality are met.
In-house maintenance. Vincero's personalized buying experience extends way beyond delivery of its products. Watch not working properly? No need to overpay at the kiosk in the mall. Each Vincero watch comes with a generous warranty that lets you send your watch directly to the company for a quality repair.
Most consumers who own — or want to own — a luxury watch assume authenticity and fine craftsmanship only comes at a high premium. That's the whole point of luxury, right? But with Vincero, it doesn't have to be that way.
By cutting out all middleman transactions in the production process and only selling products online (no retail markups), Vincero succeeds at keeping prices fair (most watches are under $200), and, more importantly, they never have to compromise on the quality or buying experience.
Quite simply, Vincero watches are beautiful, and if you wear one — no matter the occasion — you're guaranteed to make an impressively elegant statement. And you won't even have to use a filter.
Inverse readers get an exclusive 15% off using the code INVERSE. Check out their collection here.